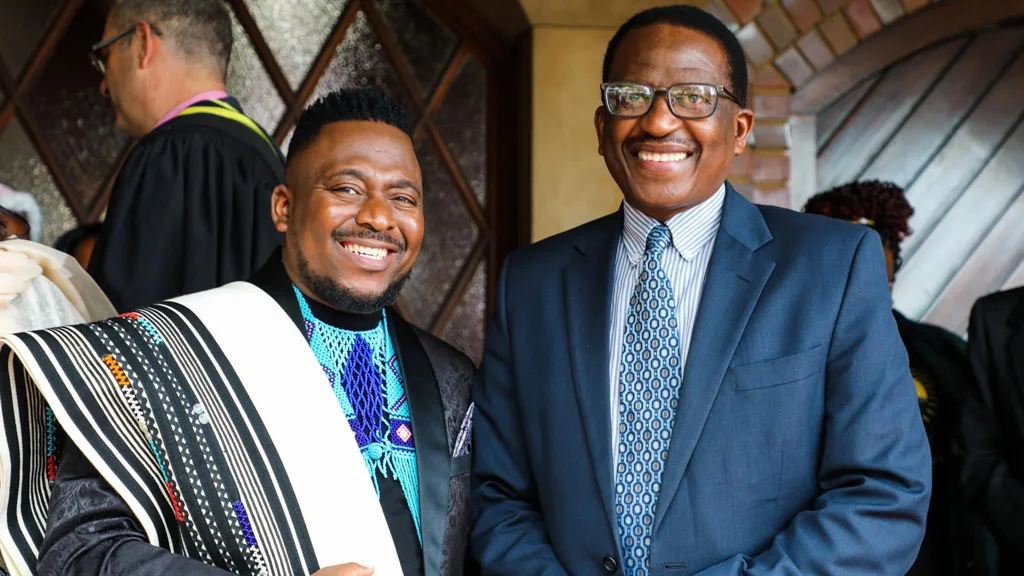 By Siviwe Mxuma
Each year, Rhodes University proudly recognises its outstanding alumni who have excelled in their respective fields and significantly impacted society. The recipients of the Distinguished Alumni Award 2023, chosen by the Old Rhodian Union selection committee, are exemplary individuals who embody the values of Rhodes University: excellence, leadership, and service. This year, the University celebrate the remarkable achievements of Anele Siswana, Charles Breen, and Roy Lubke, who have each left an indelible mark in their respective domains.
The President of the Old Rhodian Union, Prof Rod Walker, said: "Rhodes University prides itself in producing not only leaders but well-rounded and noble individuals. The three distinguished winners for this year are a true reflection of this ethos. It is pleasing that this year, we acknowledge individuals who have contributed to the generation of knowledge and have inspired a new cohort of academics in the field. Mental health is one of the key focus areas for the University, and it is heart-warming to note that one of the recipients this year is championing this worthy cause."
Mr Anele Siswana: Pioneering Mental Health Advocate
Anele Siswana, a distinguished graduate in clinical psychology from Rhodes University, stands as a thought leader and trailblazer in the field of psychology. As a registered clinical psychologist with the Helping Profession Council of South Africa (HPCSA), Anele's journey has been characterised by a relentless commitment to transforming mental health care and making it more accessible to all South Africans.
A Rhodes University Master of Arts (MA) graduate in clinical psychology and a Nelson Mandela University BPsych (Counselling) alumnus, Siswana has not only enriched his academic credentials but also diversified his knowledge by obtaining a higher certificate in Theology through Theological Education by Extension College (TEEC). His journey has taken him from Fort England Psychiatric Hospital in Makhanda to Dr. George Mukhari Academic Hospital in Gara-Nkuwa, Pretoria, where he contributed significantly to improving mental health care.
Siswana's dedication to mental health extends beyond clinical practice. He is the driving force behind "MIND YOUR MENTAL HEALTH with Anele Siswana," an initiative to increase access to mental health care services through seminars, social media engagement, and discussions on crucial psychosocial and cultural topics.
Additionally, Siswana's impact transcends professional boundaries. He has emerged as a prominent brand influencer, partnering with various campaigns focusing on mental health, culture, identity, diversity, and inclusion. His role as a corporate wellness consultant further highlights his commitment to raising awareness about mental health and providing essential psychological and consulting services.
Prof Charles Breen: Outstanding Botanist and Environmentalist
Charles Breen, an esteemed alumnus of Rhodes University, obtained his PhD in Botany under the supervision of Professor Edgar Twyman in 1970. After completing his PhD, Breen joined Indiana University and spent one year as a Post-doctoral Fellow. A few years later, he returned to South Africa and joined the University of KwaZulu Natal as a Senior Lecturer in Plant Ecology. Breen was excited to discover that the University quickly became a meeting place for researchers who brought the real world to the lecture halls. While at the University of KwaZulu Natal, Breen jumped at the opportunity to work on a project that became a world-renowned aquatic ecosystem. At the time, Breen had never heard of the Pongola Floodplain. The study was part of a broader national response to the growing awareness of eutrophication, which prompted one of the most comprehensive environmental studies ever undertaken on freshwater systems under the leadership of Breen and Heeg. Breen's contribution to the project has received worldwide recognition from scholars in the field.
Breen has held numerous leadership positions and has published extensively on aquatic ecosystems, including estuaries and their relationship with society. His peers regard him as the authority on social and ecological issues and praise him for his sharp mind, creativity, unsurpassed innovation, and visionary leadership and thinking.
Breen has also contributed extensively to various communities and societies through environmental workshops, establishment of advisory committees and as a member of review panels for various South African ministries and state-owned enterprises.
Prof Roy Lubke: Pioneer of Environmental Impact Assessment
Roy Lubke is a proud Old Rhodian and instrumental citizen of Makhanda who embodies the spirit of Ubuntu in the true sense of the word. Lubke has dedicated nearly fifty years of his professional career to Rhodes University and is regarded as a pioneer of environmental impact assessment in the Eastern Cape and South Africa. He has written numerous consultancy reports and publications on biodiversity, coastal ecology, conservation of endangered plant species, subtropical thicket and savanna vegetation, reclamation and stabilisation of mine dumps, coastal drift sands and riverbanks. He has supervised numerous postgraduate students inspired by his wealth of knowledge in the field, emulating his leadership and dedication in their professional careers.
He is an active member of local and international professional conservation societies, some of which he has been a member since 1962. He is one of the founding members of the South African Institute of Ecologists and Environmental Scientists.
Lubke has shaped the lives of many Botanists in the Eastern Cape. While he officially retired from the University in 2002, he continues to visit the Botany Department daily to participate in lively class discussions and presentations.
Rhodes University Vice-Chancellor, Professor Sizwe Mabizela, said the recipients of Rhodes University's Distinguished Alumni Award serve as beacons of inspiration for the Rhodes University community and beyond. "Their achievements in psychology, entrepreneurship, and accounting underscore the University's commitment to nurturing leaders who drive positive change in society. As we celebrate these exemplary alumni, we are reminded that dedication, innovation, and resilience can lead to remarkable success and profound impact, echoing the values Rhodes University holds dear. Hearty congratulations to all three of them, and we, their alma mater, wish them well in all their future endeavours," said Professor Mabizela.