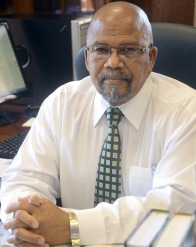 Rhodes University alumnus, Honourable Justice Lex Mpati, will be installed as the new Chancellor during the University's 2013 graduation ceremonies commencing on Thursday 4 April, 18H00 at the 1820 Settlers National Monument.
The ceremonies will commence with the graduation of students from the Faculties of Commerce; Education; Law and Pharmacy. Three graduation ceremonies will be held on Friday for the faculties of Science and two Humanities ceremonies. The last graduation ceremony, for the Faculty of Commerce students, takes place on Saturday.
Justice Mpati, who has deep roots in Grahamstown and the Eastern Cape, takes over from Prof Jakes Gerwel who passed away late last year.
Guest to honour Judge Mpati's installation include South African citizens from all walks of life such as the Honourable Makana Mayor, Mr Zamuxolo Peter, his High School friend at Mary Waters, Ms Joan Valentine, his family and Judge Khayelihle Mthiyane and Judge Cecil Somyalo.
Five Chancellors have confirmed their attendance from the University of South Africa, Chancellor Judge Bernard Ngoepe; the University of Witwatersrand, Justice Dikgang Moseneke; the University of the Free State, Dr Khotso Mokhele; the University of Fort Hare, Justice Thembile Skweyiya and the University of the Western Cape, Archbishop Thabo Makgoba.
The University of Fort Hare Vice-Chancellor, Dr Mvuyo Tom and the Nelson Mandela Metropolitan University Acting Vice-Chancellor, Professor Thoko Mayekiso, will also attend the installation ceremony.
Justice Mpati's life signifies a symbol of hope. He has achieved much in life, in spite of his disadvantage background. He faced many challenges when he grew-up, but he never gave up. He matriculated from Mary Waters High School in Grahamstown in 1967.
"A humble man of great intellect and wonderful integrity, who personifies the Rhodes motto of Strength, Virtue, Truth and the Rhodes slogan Where Leaders Learn, Judge Mpati is a superb role model for Rhodes students," said Vice-Chancellor, Dr Saleem Badat.
"Rhodes University looks forward to Judge Mpati's tenure as Chancellor, during which time he will preside over the University graduation ceremonies, award degrees, diplomas and certificates to graduating students, grace special occasions and events and provide wise counsel when required," he added.
Source: Communications
Please help us to raise funds so that we can give all our students a chance to access online teaching and learning. Covid-19 has disrupted our students' education. Don't let the digital divide put their future at risk. Visit www.ru.ac.za/rucoronavirusgateway to donate