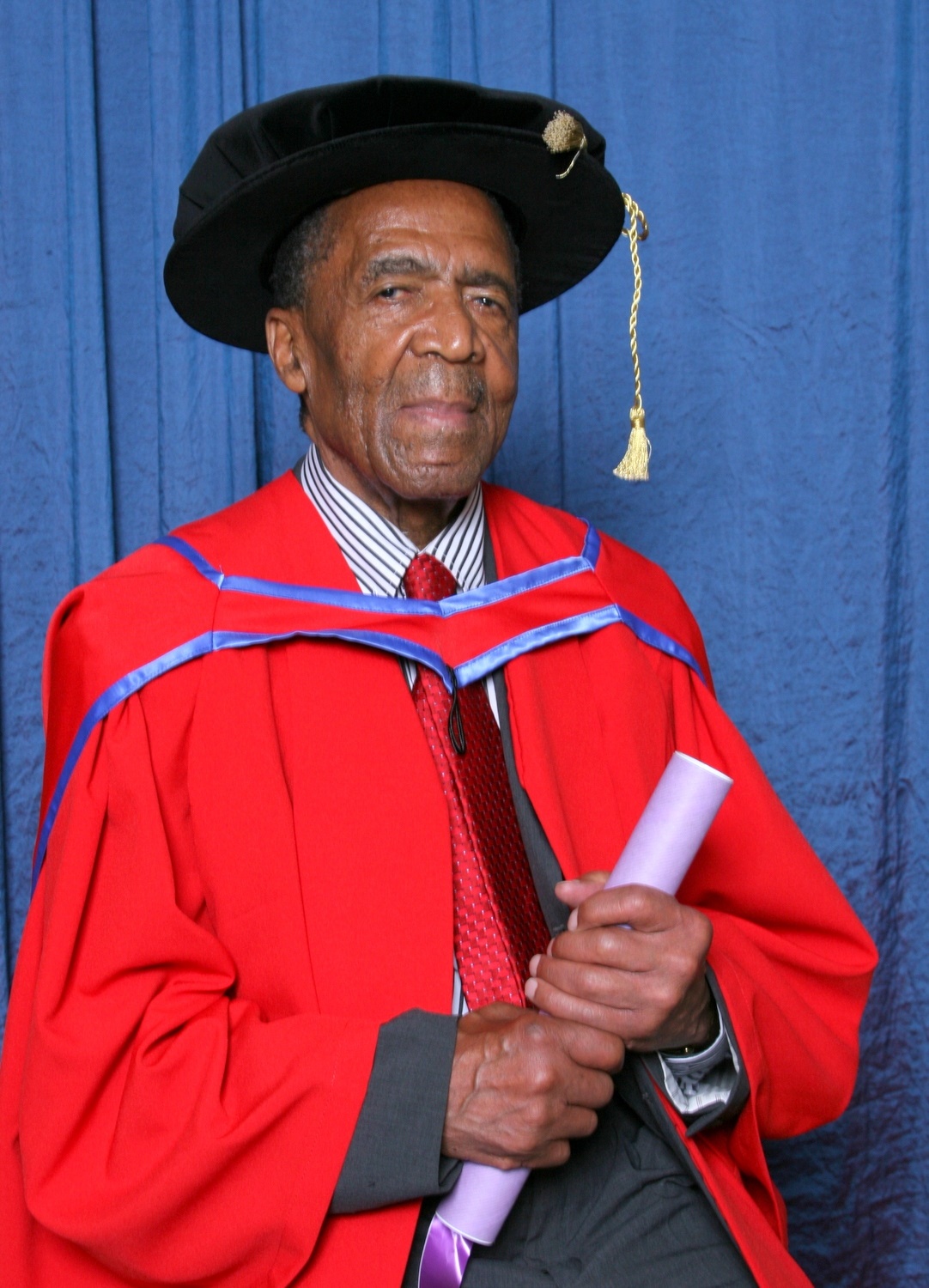 by Heather Dugmore

Born in in 1938 in Alex Township, Joburg, Dr David Koloane had an inner compulsion to become an artist and to help other black South African artists find their way.
On Friday the 10th of April, Rhodes University proudly conferred an Honorary Doctorate on this artist, activist, intellectual, writer, critic, educator, mentor and curator.
Why are some people able to rise above their circumstance when others are not?
"That is the mystery of life," smiles Dr David Koloane who grew up in Alex Township in the 1940s, always carrying a pencil around with him, because what he most wanted to do was to draw. And draw he did.
When he went to the movies at the only cinema in Alex – the King's Cinema - he would come home and recreate Superman or Batman on paper. When he watched the local jazz bands – and there were many in Alex at the time - he would recreate them on paper.
Their son's sketches entertained his parents, Andrew and Rebecca Koloane, but they never imagined they would develop into "a serious job" and that their son would become an artist, a leader and a legend.
The achievement of this required a long, difficult journey.
You have to drive yourself
"To develop a career in the visual arts, you have to see to it that you drive yourself over the long distance," he explains. "You have to commit everything to what you know you need to do, even when your family and friends ridicule you or question what you are doing.
"It is not all that different today from when I was young. There is more access to art education today in the large cities, but there are still no art institutions in many provinces. The townships and rural areas are totally ignored - there is an absence of museums and galleries here - so it is difficult for people to understand what art is all about."
He believes this is to society's detriment because "art helps to refine our minds and our characters; it makes us more human when we start experiencing the aesthetic value of life, irrespective of our hardships".
He offers the example of a wooden spoon used to mix porridge over the centuries in the rural areas. "People see the wooden spoon as functional, but there is also an aesthetic side to everyday objects," he explains.
"For me, art is also about cleansing one's spiritual life. To be able to see the beauty and finer aspects in life, not only the ugly aspects, helps to make us better people," he says.
At the same time he does not shy away from the ugly side or from making strong political statements through his art.
Malnourished, stray township dogs
He is renowned for his 'mgodoyi' series, the term for malnourished, stray township dogs. "The stray dogs were a metaphor for black people during the apartheid era when black people were treated like stray dogs that had no place and no origin.
"Stray dogs are also a metaphor for gangsterism as they can be very vicious and menacing. You see their eyes glowing in the dark and you fear them because you know they are there but you don't know when they might attack."
Sharing art with all people
Dr Koloane's social and political activism through art is as important to him today as it was when he was a young man. A big part of this is his commitment to sharing art with all people, which, in his 77th year, he continues to do wherever he finds himself.
He recently went to see a William Kentridge show at the Joburg Art Gallery (JAG), which is situated in the inner city precinct of Joubert Park.
Before he went into the exhibition he walked around the park.
"Joubert Park is a meeting space for urban-based people, often from the rural areas," he explains. "There are always lot of people in the park but most who don't know what happens inside JAG – or that they can come inside and see the exhibitions for free," he explains.
So he asked a group of people chatting in the park if they wouldn't like to come and see the exhibition. "They replied that they were not keen to come with me right then but they would go and see what is there some day."
Human responses and the details in our lives
He is fascinated by human responses and the details in our lives, including, for example, how women look at themselves in the mirror and the time they take to paint their lips. He produced a series on the called 'The Lipstick Series', which was shown at the Goodman Gallery in Joburg.
Medium-wise he's currently on an interesting journey of getting "more and more involved in charcoal". He has been looking at the etchings of artists from previous eras, including Spanish artists who covered the Spanish civil war.
There is so much colour in black and white
"It has made me realise there is so much colour in black and white that I no longer think about colour as I used to, or feel the need to use colour."
Apart from etchings, he is also keen on printmaking: "I've always had this graphic aspect to my work because I draw so much," says Dr Koloane's whose art path started taking form when his family moved to Orlando West, Soweto, while he was in high school. Here he was introduced to Louis Maqhubela a fellow high school learner who was equally obsessed with art and who studied at the Polly Street Art Centre from 1956 to 1958. Situated in the inner city, Polly Street was an informal training centre for black artists.
"Louis took me to my first art gallery in Joburg. I had never been to a gallery and I did not know anything about the art world or that black people could be artists. To me it was a far-fetched idea that a black person could be an artist," he recalls.
His gallery visit inspired him
His gallery visit inspired him to read about artists like Van Gogh, and to hone his own skills, with Maqhubela advising him.
In 1966 Maqhubela won an annual art competition in Joburg called 'Artists of Fame and Promise' and part of the prize was a three-month trip to Europe.
While he was away Dr Koloane's father passed away. He had been a tailor with his own little shop in Orange Grove. This left his mother with nothing but her small income from working at a crèche in Soweto. To help his mother, Dr Koloane left school in Grade 11 and found a job in the local municipal offices as a clerk.
After hours and on weekends he continued developing his painting and drawing skills, and when Maquhubela returned, he filled him in on what was happening in the art scene in Europe, as well as advising him what type of paper to buy and which paints to use.
He showed me the way
"He showed me the way and we are still good friends today. He lives in London where he is a working artist, and I always see him or stay with him when I am there."
Dr Koloane was in London last year, exhibiting at the Saatchi Gallery as part of an exhibition featuring the works of artists from Africa and Latin America.
"I had done a series of soccer drawings during the 2010 World Cup, which appealed to them. I used charcoal and pastel, and all that I showed was the legs of the players in motion – it was about movement and dexterity," he explains.
In 1973 Maqhubela introduced him to the late South African artist, Bill Ainslie, who was born in Bedford in the Eastern Cape. He had moved to Joburg as a young man and he had a studio at his home where he started teaching black students. They were unable, by law, to enroll in art schools at the time.
A great mentor and friend
"He helped me to understand more about colour and I would go to him on a Saturday. I studied with him from 1974 to 1977 and he was a great mentor and friend to me throughout his life."
In 1975 Dr Koloane's first exhibition was sponsored by Nedbank. He didn't attend the opening night as he thought he was going to be "a laughing stock". To his astonishment the work sold well, and he made the decision to become a full-time artist.
At the same time he was trying to create a platform for black artists as most of the galleries were not receptive to them.
The first art gallery in Joburg specifically for black artists
In 1977 history was made when Dr Koloane co-founded the Federation Union of Black Artists (FUBA) Gallery in Jeppestown and became its first curator. This was the first art gallery in Joburg to provide space specifically for black artists.
"We set up an office for FUBA at the Market Theatre complex but we were hounded by the security police because they thought it was some secret underground organisation," continues Dr Koloane who taught art to school learners through FUBA in the late seventies and early eighties.
In 1983 Dr Koloane travelled overseas for the first time. He was already in his forties.
"It was an artists' workshop in New York called the 'Triangle Arts Workshop New York'," he explains.
Do things for ourselves
"What I liked about it was that it was an artists' initiative, organised by artists for artists. We need to do this in South Africa. We need to do things for ourselves instead of waiting for people to do things on our behalf."
From here he went to London for two years on a British Council grant to study curating at the University of London, which gave him to opportunity to do projects at the London National Gallery, Tate Gallery and the British Museum.
He chooses to live in Joburg
During his career Dr Koloane has had numerous exhibitions in South Africa and abroad, but he chooses to live in Joburg with his nursing sister wife, Monica Koloane, in their apartment in Parktown.
"I have chosen to live in SA because I have always had this idea that whatever I do or achieve is not just for myself," he explains. "I carry this responsibility that whatever enlightenments and ideas I pick up in the visual arts during my time abroad, I must bring them back home to improve the local situation. Maybe it's because I was helped by a lot of people in my journey and I feel obliged to help others."
His studio is a short drive from his home, in an artists' centre he founded in 1991 in a building in Fordsburg, known as the 'Bag Factory' – so named because hessian sacks were once produced here.
He established it as a creative space where emerging artists can work in a safe, supportive environment on the outskirts of Joburg's inner city.
Intrigued by the metamorphosis
Dr Koloane is intrigued by the metamorphosis of the inner city: "It used to be totally white when I was young; today it is a completely African city ruled by the minibus taxis which reach every nook and cranny. It has so many different flavours now, with people, styles and foods from all over the continent. And like cities throughout the world, people battle for space and innovate ways to create it. If you go to Brazil, you find the favelas with double-storey shacks adjoining the high rises."
Creativity wise, Dr Koloane is currently working on his retrospective, which will be exhibited at Museum Africa in Newtown in 2016.
"It covers my journey - from when I started out as an artist to the present.
I am hoping that it will be a journey that will help some of the young artists to know where we come from and the struggles we had. We need to use our memories and experiences to make us strong."
Excited to see young people experimenting
Always sharing his insights and experiences with young artists or aspirant young artists, he says he is excited to see young people experimenting with a variety of different media today, and expressing their freedom in the combination of music, visual art, performance and technology.
"It also deeply pleases me to see that the number of young black students studying fine art at tertiary institutions is slowly increasing," says Dr Koloane who has Honorary Doctorates from the Vaal University of Technology (2008) and Wits University (2012).
Exploring the arts and relationships
"We still have a long way to go because our society is focused on commerce, science and technology, and many parents feel their children should study law or medicine or commerce because of the dividends it will pay in future.
"It's more difficult to convince people about the indispensable contribution of fine art or music, but what excites me is that I see many more young people exploring the arts as a career.
"What also excites me are the relationships that many young people in South Africa are exploring. They are not looking at each other as black or white, but rather as people simply getting to know each other. I feel that race relations in South Africa are improving and while it will take time we are moving towards healthier relationships where everyone feels welcome and at home."
For more information see http://www.bagfactoryart.org.za
Source: Heather Dugmore
Please help us to raise funds so that we can give all our students a chance to access online teaching and learning. Covid-19 has disrupted our students' education. Don't let the digital divide put their future at risk. Visit www.ru.ac.za/rucoronavirusgateway to donate