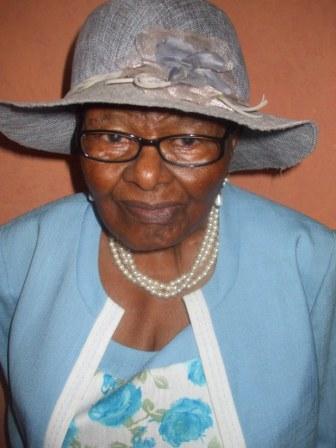 Addressing the Faculty of Humanities graduation ceremony on Friday (13 April), the mother of former South African president Thabo Mbeki, Ms Epainette Mbeki, affectionately known as "MaMbeki" said South Africa has a serious shortage of skills and this poses a challenge to government.
"I acknowledge efforts that are being made in this regard, our government needs to double its efforts and channel more resources to these areas to develop a new breed of citizenry that will be able to make a meaningful contribution in the development of our country," said Mrs Mbeki.
"Our youth needs skills and access to education. A skilled and educated youth holds the keys to a prosperous country where the divide between the haves and have not's is considerably narrowed. The future does not belong to us, it belongs to the youth," she added.
She congratulated graduands on their achievements and welcome this occasion with much pleasure and humility, more so because Rhodes has conferred Doctor of Laws honoris causa on her. "The honour I do not deserve," she added.
"It is a wonderful privilege to be awarded this honour by an institution whose contribution not only to human knowledge but also to the development of society is well documented; an institution that continues to make a profound impact on the development of human kind," she said.
"I share this day with many other graduands who have spent several hard years engaged in research and other academic activities, adding to our knowledge. I say to them this is your day too and I congratulate you on your achievements."
"I also share this honour with many other people from whom I have drawn courage, strength and inspiration and I would like to thank them as well."
Rhodes honoured MaMbeki for her unique contribution to educational and social transformation in the Eastern Cape and South Africa for many decades.
Throughout her entire life MaMbeki have been an active participant in various activities and projects designed to improve the lives of ordinary people. This active involvement goes back to her earlier years when she ran a branch of the Communist Party which was later banned alongside other political formations in the country.
She was amongst others, a member of the Transkei Women's Zenzele association. In the later years she formed two Women's Projects Khanyisa and Masande.
At age 96, she is also running a home for the destitute children in Qumra (Komga).
Ms Mbeki is a profound South African symbol of exceptional human endeavour and unwavering commitment to educational advancement and social development. Her symbolism is made more poignant and significant in that it was achieved under conditions of near insurmountable adversity.
Rhodes honorary doctorate recognises individuals who have shown leadership and made contributions to various sectors in society such as educational advancement, social development, business and science.
Source:
Please help us to raise funds so that we can give all our students a chance to access online teaching and learning. Covid-19 has disrupted our students' education. Don't let the digital divide put their future at risk. Visit www.ru.ac.za/rucoronavirusgateway to donate