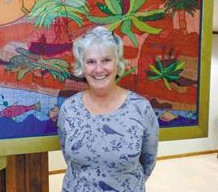 Praised for community projects
A MEDICAL doctor who moved to a poor Eastern Cape backwater years ago and set up a community art project will receive an honorary degree from Rhodes University for her groundbreaking work fighting poverty and HIV/Aids.
Although she had been out of clinical practice for years before she moved to Hamburg in 2000, talented artist Dr Carol Hofmeyer, who initiated the award-winning Keiskamma Art Project in the seaside hamlet, soon became aware of widespread HIV/Aids problems in the area and decided to help.
Spurred on by the desperate plight of her rural neighbours, who were either too poor or sick to get proper medical treatment, Hofmeyer went back to work as a primary care medical officer in local clinics and later established an Aids treatment centre in an old house in a village called Umtha Welanga (rays of the sun).
More than 30 village health workers were trained to cover the area and given support and advice on HIV/Aids. Also, anti-retroviral therapy was provided for the sick. Children are being fed daily in one of several related projects.
Hofmeyer and renowned musician and social commentator Vusi Mahlasela will each be bestowed with a degree of Doctor of Laws honoris causa at this year's Rhodes University graduation in Grahamstown in early April.
A statement from Rhodes University spokesman Zamuxolo Matiwana said Hofmeyer was being honoured for her significant contribution to upgrading the quality of life of many people in the Eastern Cape and for making a considerable difference to the lives of hundreds of people in the village of Hamburg.
"The impact of her work has not only been in the aesthetic and creative arenas but also in areas that involved generating income, as well as enhancing the health and education of community members."
Hofmeyer was struck by the levels of poverty and the plight of women who were unable to support themselves and their children. She established the Keiskamma Art Project as a way of generating income for the community, according to Matiwana.
"When she moved to Hamburg she had no inclination to work as a medical doctor, but she realised the dearth of medical doctors in the village not only compromised general healthcare needs but could also be life threatening.
"Dr Hofmeyer resumed practising medicine late in 2004 and her HIV/Aids related work has been essential and significant."
More than 130 people have found work through acclaimed art like the Keiskamma Tapestry (2004), Keiskamma Altarpiece (2005), Creation Altarpiece (2007) and African Guernica (2010), as well as the Rhodes University Tapestry (2011).
Pretoria-born Mahlasela is being honoured for the role he has played in helping to unify South Africa and contributing to nation building as a social commentator and through the medium of popular African music.
Mahlasela's songs have found their way onto some high-profile compilation albums, notably the Oscar-nominated Mandela's Soundtrack . the 1996 Homegrown Red Cross fundraising CD and African Troubadours , a Shanachie Records release. He has received numerous local and international awards.
"Mr Mahlasela has used his music talent to contribute to change."Attempts to get comment from Hofmeyer yesterday proved fruitless.
Story By David Macgregor
Photo by Elbé van Heerden
Source: Daily Dispatch
Source: Daily Dispatch