Hugh Masekela Hall Warden & Hilltop 8 House Warden: Ms Vuyolwethu Baneti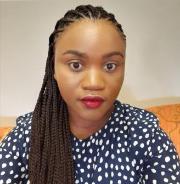 House Wardens are responsible to the Hall Warden for the welfare and discipline of the students in the Houses and for the maintenance of the fabric of her house and its moveable assets.
Vuyo Baneti works as a Project and Communication's Officer for the Equity and Institutional Culture; Vice-Chancellor's Office, Rhodes University.
Her experience includes working as a Junior Researcher in Education and Rural Development, focusing on Child Centred Community Literacy programs across South Africa. She has also worked as a Remedial Teacher in a primary school using literature, among other strategies, to encourage each individual to learn the best way they can.
She is currently pursuing her LLB studies with a deepened interest in human rights(women and children).
Growing up in the rural areas raised by her grandparents has taught her kindness and respect, and these are the two principles she lives by. She is a creative person, enjoys stimulating conversations with young minds and loves reading (for her, nothing compares to the smell of a new book).
If you have any questions, queries or comments, contact me as per details below.
Hilltop 8 House
Hugh Masekela Hall
Private Bag 1038
Rhodes University
Grahamstown 6140
Ms Vuyolwethu Baneti
Cell: 081 379 9943
Tel: 046 603 8149 (W)
Tel: 046 603 7517 (H)
Last Modified: Wed, 05 Jul 2023 17:54:34 SAST