Equipment
The Department of Human Kinetics and Ergonomics utilises a wide range of equipment. In maintaining the holistic nature of research into human responses and potential within the Department, biomechanical, physiological and psycho-physiological equipment is used.
Equipment includes:
Cortex Metalyzer
Cortex MetaMax – portable ergospirometry system
Polar heart rate watches and belts
Gait Analysis Walkway
DartFish - Motion Analysis Software
3DSSPP Software
Dikablis Eye Tracker
Audiometer and luminance meter
Force Platform
Neurocon Balance Master – specialized rehab force platform
Biodex – isokinetic dynamometer
Lumbar Motion Monitor
Zebris Motion Analysis system – allows 3D motion analysis
Chatillon Dynamometers
Biometrix Data Logger
Thermographic camera (FLIR)
Some of the equipment used is described in more detail below:
ENRAF-NONIUS ENTREE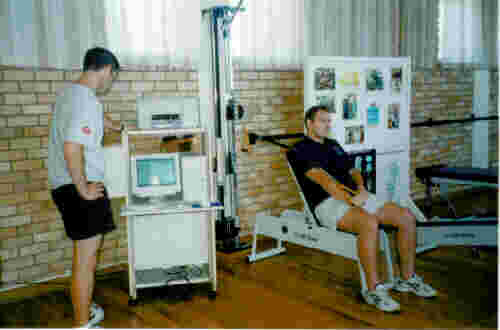 EntreeM
WHAT DOES IT DO?
The Entree system is a Windows-linked stack-weight isoinertial machine which can be used to assess the efficiency of movement and strength in both testing and rehabilitation settings.
Assessment of: Power, velocity, force and work
HOW DOES IT WORK?
The system works on a single or double wire pulley which is connected to a weights stack system section. Various movement patterns are executed by upper- and lower limbs when testing clients. The computer allows for graphical comparisons of different sides of the body and also for test/re-test protocols.
WHAT ARE THE USES OF THE DATA?
Data are particularly useful in a rehabilitation setting, as the graphs of early testing of strength and range of motion can be compared to repetitions completed at a later stage. The data may also be useful in disability assessment where imbalances in muscle strength on the left and right side can be identified and targeted.
CHATILLON DYNAMOMETERS CSD 400 and 500 MODELS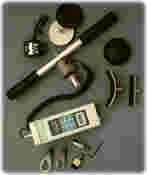 Chatillon
WHAT DOES IT DO?
The hand-held apparatus allows for basic assessment of isometric force (in kg.f) produced in a clinical or ergonomics situation. Basic movements can be performed to measure, for example, neck and arm strength.
Assessment of: Force
HOW DOES IT WORK?
Readings are calculated from a push or pull force exerted by the subject. Measurements are taken by securing the dynamometer on a wall or in the hand, with the subject then exerting a force. As it is often difficult to measure accurately on the first trial, a number of trials (maximum of 5 trials) should be carried out.
WHAT ARE THE USES OF THE DATA?
A base of comparison can be established between isokinetic dynamometry data and in-situ isometric data. The equipment can be used on a more regular basis than the Cybex due to its ease of use and portable nature.