Alumni
Alumni of the HKE department are remembered fondly, and are welcome to visit the department at any time.
If you would like to be included in the "news" item please email information to Miriam (m.mattison@ru.ac.za). We appreciate keeping in touch!
Featured Alumni
Kirsten Huysamen
Kirsten obtained her Masters' in HKE in 2014 and has since completed her PhD in Human Factors and Exoskeleton Design from the University of Limerick in Ireland. Her thesis, titled Human Factors Considerations of Industrial Exoskeleton User Interaction, investigated specific elements of human factor design which directly affect system usability. The thesis provides qualitative and quantitative guidance, including different strategies and techniques, which could be implemented in the design and assessment stages of such technology. The research undertaken was performed in accordance with the lifecycle of the EU funded Robo-Mate Exoskeleton Research project. The project was aimed at developing an industrial exoskeleton for manual handling work, in order to reduce the risk of developing work-related musculoskeletal disorders.
Christie Garson
Christie was an undergrad in the HKE department between 2006 and 2008 and completed her honours in 2009. She recently graduated with a PhD at the Extreme Environments Laboratory at the University of Portsmouth in the United Kingdom. Her PhD was titled "Thermoregulation in the Encapsulated Environment. Reducing thermoregulatory strain experienced by warfighters when wearing fully encapsulating protective clothing with additional investigations of thermoregulatory control" and it was funded by the Ministry of Defence. She has started a post-doctoral position at the University of Cape Town in the field of cardiovascular disease and diabetes.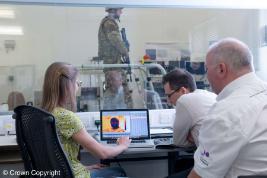 Hayley Arthur
Hayley works as a Biokineticist by day, running the OceanRiders strength and conditioning programme at Kings Park Sports Medicine centre in Durban. But it is her achievements in canoe and surfski recently that warrant mention...

Hayley has represented South Africa at two major events in 2015: In Hungary at the canoe marathon world champs where she and her partner Donna Tutton competed in the senior women's K2 category and came 7th out of 24 boats. The race consisted of 7 laps of 4km, with 100m portage between each lap.
Tahiti was Hayley's next destination, where she participated in the world ocean paddling championships. After only a year of ocean surfski experience, Hayley is thrilled with her 5th placing in the open women's category: 409 competitors were supposed to start the event but a number didn't given the conditions which frightened them off! In downwind conditions the race was 30 km from point A to B, in deep ocean - which Hayley describes as simultaneously the most terrifying and wonderful experience. One of the male competitors was knocked from his surfski by a whale during the event....
Representing South Africa for these sports is a self-funded exercise, and one which Hayley is determined to continue to do.
Adam Cripwell
After working in London for a number of years and following his brother Devin's example and entering the sport of Ironman Triathlon, Adam competed in a number of triathlon events both in the UK and on the continent. After being placed in Barbados in 2014 with his company, Shell, Adam soon found that the island lifestyle suited triathlon sport very nicely - especially the swimming!
After taking some time away from serious competitive training with the arrival of his daughter, Beth, in mid-2014, Adam has returned to focussed training with a vengeance in 2015: and has recently won the title as Barbados Triathlon Champion.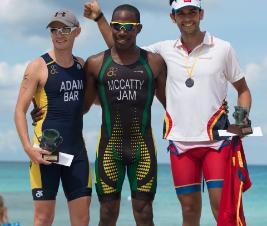 Latest Alumni News
In no particular order, herewith some news on your classmates from recent ... and not so recent years!
Michael Cannon (MSc, 2011) is now Project Manager at City Couriers, and is based in Durban, South Africa. Classmate Alex 'Bokkie' Joiner (MSc, 2011) and Claire (nee Pettengell) re-located to Bath, UK, where Claire now works in fashion and Alex has a position in Derivatives Management. Also in derivatives is Adam Cripwell (MSc, 2008) who entered Shell graduate recruitment programme in the UK and after spending a number of year with Shell in London has been transferred to Barbados in the Caribbean. Adam's brother, Devin Cripwell (MSc, 2013) is teaching at Rondebosch Boys High in Cape Town.
Sma Ngcamu (currently completing her PhD) and Bongani Maduna (currently completing his MSc) are both working for Ergonomics Technologies (ERGOTECH), based in Midrand, South Africa, as are Sarah Bannatyne (nee Skelton, MSc, 2007), and Casey de Gray Birch (MSc, 2012). Gen Macquet (nee James, Msc, 2007) worked for Toyota South Africa as on-site Ergonomist and is now working for Mondi Forests as Operations Research Specialist focussing on Ergonomics and work study. Sally Lombaert (Hons, 2003) stepped into Gen's shoes and is now Toyota SA's Ergonomist based in Durban. Caley Chaplin (MSc, 2012) began her career at ErgoTech, but has subsequently moved on to Synergo Consulting based in Singapore.
Jon James (PhD, 2007) and Sally (nee Norton, Hons 2000) are resident in Johannesburg, South Africa, where Jon is a Risk Manager and Partner at KPMG and Sally is Deputy Head of St Mary's School for Girls, Waverley. Sally is also the IEB Examiner for Geography, and was awarded her PhD in the Rhodes Education Faculty in 2014. Darshan Weerasinghe (2006) has risen to fame as the conditioning coach for the Sri Lankan cricket team, while Greg King (MSc, 2005) is equally well known in cricket circles and is currently contracted to Cricket South Africa and the Indian Premier League.
David Wright (Hons, 1999) served as the Director of Sport at Grahamstown's Diocesan School for Girls and is now the Deputy Head. Pieter Serfontein (1999) has also returned to Grahamstown, this time with his family and as Director of Sport at Kingswood College. Charles Dirkse van Schalkwyk (MSc, 2003) has worked for Shell Corporation in the far east for many years, using his Ergonomics training at the coal face.
Anthea Ashford (nee Bennett, MSc 2010) relocated to the UK where she is working on military design projects, and classmate Sheena Desai (MSc, 2010) is also in London working for an Ergonomics/Design firm. Anna Marsh (Hons, 2008) travelled to the UK following her Honours degree and worked as a Personal Trainer while completing further studies in Nutrition. She is now working from Bournemouth and manages an online business. Lindsay Davy (nee Jackson, MSc 2009) has opened her own Pilates studio in Grahamstown, and she and Jono Davy (currently completing his PhD) have two young children, Liam and Ella-May.
Kirsten Huysamen (MSc, 2014) secured funding to undertake her PhD at Limerick University, Ireland, where she is currently working hard and exploring the world. Tyron Louw(MSc, 2013) is reading for his PhD at the Institute for Transport studies at University of Leeds (he holds the Leeds International Research Scholarship). HIs research in Human Factors focuses on the transitions of control in highly automated driving. Tyron write:
"I am a member of the Safety and Technology Group, a multidisciplinary team undertaking research in road safety and driver behaviour. Alongside my PhD, I am employed as a Research Assistant on the EU Commission-funded projects AdaptIVe and CityMobil2, working with different research groups and car manufacturers across Europe". Tegan Crymble (MSc, 2014) is currently Health&Safety Officer and Labour&Employment Practitioner with MassMart Holdings and is based in Johannesburg, South Africa - and will shortly (late 2015) take up a position at Discovery Health.
Miranda Armstrong (Hons, 2002) obtained her doctorate at the University of Cape Town, and is currently employed at the Cancer Epidemiology Unit, Oxford University. Sethunya Tau (MSc, 2013) is enjoying her time as Ergonomics Consultant at Ergoways, while Samantha Bezuidenhout (MSc, 2014) is a Wellness Specialist at Discovery Health based in Johannesburg.
Lindsey Parry (1999) is something of a "household name" for Comrades/Two Oceans runners, and has been an online as well as print contributor in local and interntional media on training for long-distance running events for many years. He is based in Pretoria at the TUKS High Performance Centre, and is on-site coach for the SA Triathlon squads. If you pay close attention when watching events such as the Johannesburg Open, you may spot Garth Milne (Hons, 1999) who continues to marry the love of golf with the science of the sport as a commentator, coach, and occasionally - as caddy to the stars! Cath Townshend (nee Roberts, 1998) was also a regular on SuperSport screens for many years, with a slot on SuperCycling dedicated to tips and hints for women cyclists.
Well known names in sport science academe are Richard Stretch and Mike Lambert (Hons graduates). Richard was well known in cricket circles, and had spent many years at NMMU in Port Elizabeth, while Mike is Professor at the Exercise Science and Sports Medicine Unit at the University of Cape Town. Also a Professor at UCT in the ESSM Unit is Andrew Bosch (MSc graduate). Ashleigh White (nee Jones, 1994) completed her Human Movement Science at Rhodes University and then her BSc. Honours in Biokinetics at the Sports Science Institute of South Africa. She then spent a year in Durban practicing Biokinetics under the guidance of Jimmy Wright followed after which she returned to the University of Stellenbosch to complete her Physiotherapy degree. Ashleigh has worked in hospitals as well as private, multi-disciplinary practices in Cape Town, Durban and the United Kingdom. She enjoys providing physiotherapy support to patients with musculoskeletal and orthopaedic injuries but her passion lies with athletes, runners and triathletes. Ashleigh has hosted a number of multidisciplinary practical running workshops over the past year. She runs regularly with Regent Harries and provides material for their blog. Ashleigh participates regularly in ultra-marathons.
Andrea Parker (nee Patrick, 2000) followed her Rhodes HKE degree with a Biokinetics qualificaion, obtained from the University Of Zululand. After some years practising as a Biokineticist in Johannesburg, Andrea returned to Grahamstown where she has a practice serving Grahamstown, Port Alfred and Kenton on Sea. Andrea recently founded 'Health & Sport Inc.' in Grahamstown together with a group of young Grahamstown Physiotherapists, Sport and Clinical Psychologists. Gareth Barford (MSc, 2013) is now Accounts Manager at Discovery Health in South Africa.
Postgraduates 2014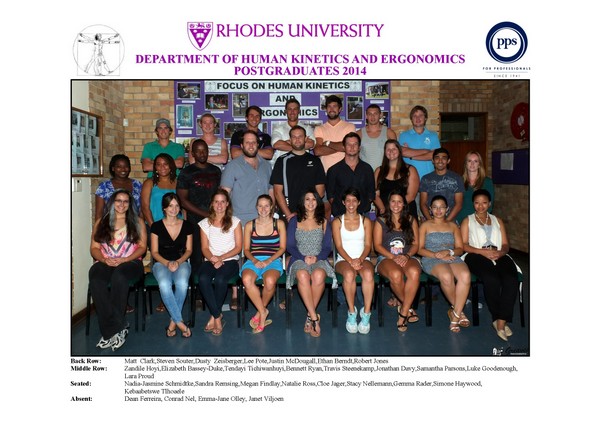 2006

HKE 3 class in 2006

HKE postgraduates in 2006
2005

HKE 3 class in 2005
More photos will follow soon.
Last Modified: Thu, 18 Feb 2021 14:43:26 SAST