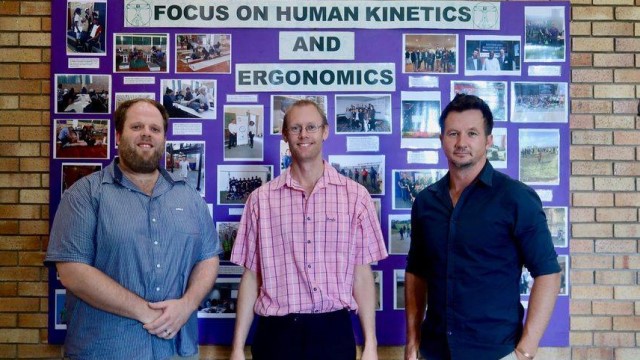 On 04 February 2021, the three winners of the 2019 VC's Community Engagement Award gave attendees an inspiring look into the possibilities of transforming classroom-based teaching and laboratory-based research into an embedded and transformative experience for students, academics and community members.
The Vice-Chancellor's Distinguished Community Engagement Award is a prestigious and competitive annual award which recognises meaningful and committed partnerships between the members of the University and community partners in the areas of community engagement, teaching and learning and engaged research, where human and material resources of the University have been combined with assets found in local communities in order to contribute to sustainable human and community development.
Rhodes University has become a leading engaged university with a number of internationally-renowned engaged research programs and meaningful community-engaged learning partnerships.
As winners of the 2019 VC's Community Engagement Awards, Mr Andrew Todd, Dr Jonathan Davy and Mr Ben Ryan from the Department of Human Kinetics and Ergonomics (HKE) presented a virtual lecture reflecting on their journey towards embedded engagement.
"In accepting the award and presenting this lecture, we would like to acknowledge the entire department, our students and community partners, who have all been integral in making this happen," said Mr Todd, Senior Lecturer at HKE Department at Rhodes University.
Mr Todd explained how the nature of Human Kinetics and Ergonomics, which is essentially how an individual interacts with a system, cannot be effectively studied solely in a classroom or lab environment. "Context, interaction and emergence (how behaviours change over time) are lost within a classroom setting. This is why learning needs to take place in the real world," he explained.
HKE Lecturer Dr Davy recounted how the Trading Live for Mandela (now Vuka! Makana) initiative is what initially sparked the Department's interest in becoming more embedded in the community. "At this stage, however, community involvement was not linked to our curriculum and student participation was not optimal. At the same time, the university protests that took place in 2016 highlighted various issues of social injustice. These circumstances came together to highlight to us the fact that we need to change how we teach, engage and contribute to the community," he said.
Through getting involved in various initiatives such as local boxing and soccer clubs, collaborating with the Pharmacy Faculty in health promotion and disrupting the classroom by doing service-learning at the Waainek Mass Rearing Facility (part of the Centre for Biological Control) which employs people with disabilities, the HKE Department was able to explore the concept of "work-as-done" and not "work-as-imagined".
This had an impression on HKE student Mr Ben Ryan, who said he felt unsatisfied with his lab-based Honors project, and decided to fully interact and immerse himself with the community for his Masters project. "I wanted to interrogate what it means to be involved with the community, to understand its context and to make a meaningful impact," he explained.
What he learned during his Masters journey, said Mr Ryan, culminated in an engaged and embedded research model in his PhD, which has been successfully examined, and praised for the novel approach adopted by Mr Ryan. His thesis has made a significant contribution to the sustainable service-learning and embedded research model that is now used by the Department to drive engagement with community partners.
A big enabler for an embedded approach to teaching and learning and research, explained Mr Todd, was the establishment of the Sarah Baartman District Academy of Sports in Joza, Makhanda. HKE's aim in the Academy, which was created in partnership with the Eastern Cape Academy of Sport and the Department of Sport, Recreation, Arts and Culture (DSRAC), is to assist in developing talented athletes. "The Academy provides a permanent site for our students to embed themselves in learning within a 'real world' context. When we have agency and give agency, everyone learns," he said. An important take-home message from the group was the acknowledgement that the development of these projects was a "work of time" and cannot be achieved overnight, as such it is important not to give up but rather to be reflective and reflexive.
In closing the lecture, Mr Todd gave thanks to everyone who has been part of the Department's journey towards embedded learning. "People are the heartbeat of the projects," he said. "It has been a privilege and an honour to have received this award."
Di Hornby, Director of the Rhodes University Community Engagement Division, said of the presenters: "There is no doubt that the work they have undertaken has impacted the community of Makhanda as well as being influential in the national and international space. Their students will leave not only with a certificate but also as well-rounded critical thinkers who, with their social awareness, will be the transformative leaders our country so desperately needs."
Source: Communications