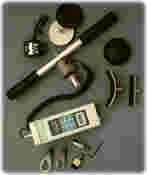 WHAT DOES IT DO?
The hand-held apparatus allows for basic assessment of isometric force (in kg.f) produced in a clinical or ergonomics situation. Basic movements can be performed to measure, for example, neck and arm strength.
Assessment of: Force
HOW DOES IT WORK?
Readings are calculated from a push or pull force exerted by the subject. Measurements are taken by securing the dynamometer on a wall or in the hand, with the subject then exerting a force. As it is often difficult to measure accurately on the first trial, a number of trials (maximum of 5 trials) should be carried out.
WHAT ARE THE USES OF THE DATA?
A base of comparison can be established between isokinetic dynamometry data and in-situ isometric data. The equipment can be used on a more regular basis than the Cybex due to its ease of use and portable nature.
Last Modified: Wed, 28 Nov 2012 16:11:21 SAST