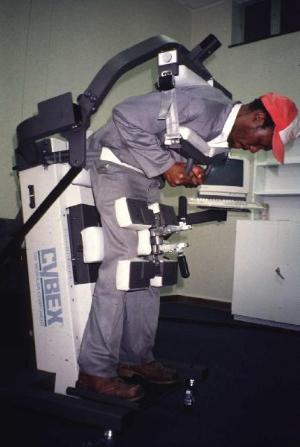 ‎
WHAT DOES IT DO?
The Cybex system provides a test of isokinetic muscle strength. The speed of the machine stays constant throughout the range of motion, for example, 60.s-1. It is up to the subject to "catch" the machine and express maximal force through the full range of motion.
Assessment of: Torque, work and power outputs
HOW DOES IT WORK?
Isokinetic devices permit individuals to exert as much force and angular movement as they can generate - whether they are a frail rehabilitation client or a robust athlete - at a predetermined velocity. The subject must therefore aim to go as fast and as hard as possible against the machine which in turn will offer an accommodating resistance.
WHAT ARE THE USES OF THE DATA?
Data collected can be compared to normative values and test/re-test values can be obtained. Improvements in torque, work and power outputs can be plotted on graphs and used as a form of motivation for the subject.
Last Modified: Thu, 29 Nov 2012 13:00:15 SAST