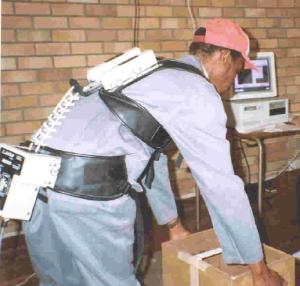 WHAT DOES IT DO?
The Lumbar Motion Monitor (LMM) assesses the dynamic component of lifting tasks in industrial or laboratory settings.
Assessment of: Lumbar displacement, velocity and acceleration
HOW DOES IT WORK?
The LMM consists of a tri-axial electrogoniometer that acts as a lightweight exoskeleton of the lumbar spine. It is positioned on the back of the subject directly in line with the spine and attached by a harness at the pelvis and thorax. Four potentiometers at the base of the LMM measure instantaneous position of the spine in 3D space relative to the pelvis.
WHAT ARE THE USES OF THE DATA?
The LMM can be used in-situ to assess the forces placed on the spine while executing a manual task. That task can be compared to a large database of jobs from different sectors of industry/manufacturing to review risk level. The LMM can also assist in determining whether or not ergonomics intervention is required at a specific work station.
Last Modified: Thu, 29 Nov 2012 14:35:19 SAST