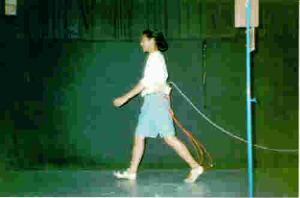 WHAT DOES IT DO?
The temporal-distance factors walkway allows for assessment of gait kinematics in a laboratory setting. The walkway is useful for the assessment of changes in gait patterns of an injured person or the assessment of load carriage on gait.
Assessment of: Gait
HOW DOES IT WORK?
The subject has a number of foot-switches placed on specific parts of the feet. These are interfaced with a computer by means of electrical leads. Subjects walk on a metal walkway, passing start/finish LED towers. Their switch-time results are then entered into a computer which records measured and derived kinematic data.
WHAT ARE THE USES OF THE DATA?
Gait analysis allows assessment of the influence of injury on the natural walking pattern of a subject. Gait anomalies can be identified and re-assessed following a rehabilitation programme.
Last Modified: Thu, 29 Nov 2012 14:28:31 SAST