Visitors
Visiting Academics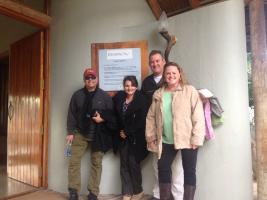 (L-R Prof Frank Marino, Trish Marino, Warren Henry & Dr Candice Christie)
The Department took pleasure in welcoming Professor Frank Marino and his wife, Trish, for a week's visit in mid-2014. Professor Marino is Head of Department at Charles Sturt University in Bathurst, New South Wales, Australia. Professor Marino is no stranger to South Africa, having spent a number of years working at the Sport Science Institute in Cape Town, and retaining close ties there.
During his time at Rhodes, Professor Marino facilitated a number of seminars and discussion forums on the nature of research, the philosophy of science, as well as more specific topics such as the central governor model of fatigue and the use of pre-cooling methods on performance and recovery.
Visits scheduled for later in 2015 will include Professor Andrew Thatcher from WITS University Industrial Psychology Department, as well as Professor Andrew McKune from UKZN. More details will follow.
Last Modified: Wed, 15 Jan 2020 11:50:59 SAST