In pursuit of academic distinction, Rhodes University strives to offer an employment partnership of choice by: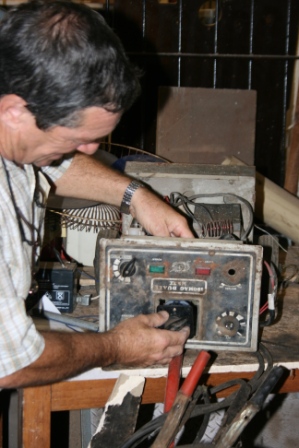 Terry Butterworth hard at work
Furthering institutional excellence and appreciating contributions made in support of such excellence
Affording respect and dignity to both the individual and the collective.
Rhodes University has a proud academic tradition, something which is not possible without the support of numerous devoted and skilled support staff at all levels. The grounds and gardens of Rhodes are part of what makes Rhodes special to students, employees and alumni alike. The efficient systems put in place by the administrative sections are invaluable to the smooth running of the institution. The competence and dedication of the technical staff within academic departments contributes to a vibrant and active research University. The inter-dependence between support staff and academic staff is something which must be appreciated and cherished.
In this section you will find:
Information related to you as a support staff member
People management information you need to assist you in managing your support staff: documentation and information with regards to new staff, staff development, leave, remuneration & benefits, recognition & reward, succession planning, managing staff and conditions of service.
You are also encouraged to refer to the:
Jobs Website which has some helpful information aimed primarily at prospective employees. However, particularly if you are new to Rhodes and Grahamstown you might find this helpful.
Last Modified: Tue, 07 Jan 2020 10:58:40 SAST