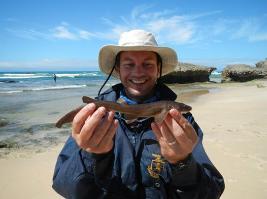 BSc (Hons), MSc, PhD (Rhodes)
Teaching
Co-ordinator of the Ichthyology honours course and teaches courses in marine biogeography at 3rd year level and taxonomy, field techniques and fisheries management at honours level.
Research
My research interests started with understanding the environmental factors that drive fish production in African freshwaters and through this I have developed a keen awareness of the interrelatedness of terrestrial environments, aquatic environments and the impact of humans.
After living in southern Angola for two years, I developed a coastal marine research program on this virtually unstudied region. Since almost no information was available, this program began with a range of components from the most fundamental, such as taxonomy and phylogeography, through to the biology of important fishery species and socio-economic characteristics of the coastal fisheries. However, with significant warming observed in the coastal environment, this area provides a unique opportunity for climate change research and more recently, our research focus has shifted to the impacts of climate change on coastal fishes, including its affect on the distribution of fishes, the impact of change on fish reproduction. This research includes fish movement studies (both conventional tagging and acoustic telemetry), ecophysiology experiments and schlerochronology (using hard parts to track the growth history of fishes).
As an avid angler, I have become extremely interested in all aspects of recreational fisheries and particularly how they can benefit developing country economies, with lesser biological impacts than traditional fisheries. Research in this area includes economic evaluations of recreational fisheries, understanding the social dimensions of recreational fishery compliance and optimising the survival of released fishes.
Selected Recent Publications
Arlinghaus R, Cooke SJ, Potts WM (2013) Behaviour as a bridging concept to integrate the social and ecological components of recreational fisheries. Fisheries Management and Ecology, doi: 10.1111/fme.12027.
De Beer C, Potts WM (2013) Behavioural observations of the common octopus Octopus vulgaris (Cuvier 1797) in Baía dos Tigres, southern Angola. African Journal of Marine Science 35(4): 579-583.
Potts WM, Booth AJ, Richardson TJ, Sauer WHH. (2013) Ocean warming affects the distribution and abundance of resident fishery species by changing their reproductive scope. Reviews in Fish Biology and Fisheries DOI:10.1007/s11160-013-9329-3.
James NC, Van Niekerk L, Whitfield AK, Potts WM, Götz A, Paterson AW (2013) A review of the possible effects of climate change on South African estuaries and associated fish species. Climate Research 57:233-248.
Publications in Press
Rishworth GM, Strydom NA, Potts WM (In press) Fish utilisation of surf-zones. Is it changing? –a case study of the sheltered, warm-temperate King's Beach. African Journal of Zoology (in press)
Henriques R, Potts WM, Santos CV, Sauer WHH, Shaw PW (In press) Population connectivity and phylogeography of a coastal fish, Atractoscion aequidens (Sciaenidae), across the Benguela Current region: evidence of an ancient vicariant event. PLOS ONE (in press)
Manuscripts in Review
Henriques R, Potts WM, Santos CV, Sauer WHH, Kruger J, Thomas J, Shaw PW (Accepted) Molecular genetic, life history and morphological response of a coastal, migratory Sciaenid fish to an upwelling-driven allopatric speciation event'. Journal of Biogeography
Potts WM, Henriques R, Santos CV, Munnik K, Ansorge I, Dufois F, Booth AJ, Kirchner C, Sauer WHH, Shaw PW (Submitted) Ocean warming contributes to a rapid distributional shift and hybridization of a coastal fish species. Global Change Biology
Beckensteiner J, Kaplan DM, Potts WM, Santos CV, O'Farrel MR (Submitted). Data-limited population-status evaluation of two coastal fishes in southern Angola using recreational catch length-frequency data. Fisheries Research
Last Modified: Sun, 01 Oct 2017 16:28:33 SAST