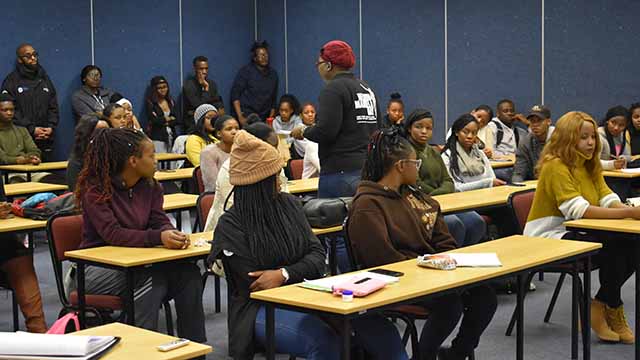 The Banking Sector Education and Training Authority (BANKSETA) has donated nearly R5.8 million to assist 50 Rhodes University commerce and science students with full tuition for 2018.
BANKSETA is an enabler of skills development and transformation in the broader banking and microfinance sector, and supports people development through partnerships, skills development, alleviating unemployment, creating a brighter future and enabling change. BANKSETA focuses on SMEs, the youth, adult education, continuous professional development and research.
The 50 students are studying within the fields of Accounting, Management, Information Systems and Computer Science. The funding covers tuition fees, accommodation and a book allowance, which amounts to approximately R100 000 per student.
"This is the first time BANKSETA is funding Rhodes University students," said Luyanda Bheyile, Development Fundraiser of Campaigns at Rhodes University. "We are very privileged to have this transformative statutory body supporting our students and allowing us to better support them."
"All the SETAs report to the Department of Education Minister. Our mandate is to uplift the education in the banking sector," the Eastern Cape regional manager at BANKSETA, Ms Nobuzwe Mangcu, told the students. "Your degree will equip you with scarce and critical skills, and we want to encourage that and support you through it. I am here today to see if you need anything."
Students were generally impressed with the support they were already getting from Rhodes University.
Mangcu agreed. "This is the only University I know of that supplies clean linen to residence students on a regular basis, as well as free campus-wide access to WiFi," she told them. "Don't forget how lucky you are."
Mangcu explained to the students that, even though the BANKSETA is invested in removing their financial stresses, they are expected to plough their energy back into the community, even while studying.
"And definitely when you are climbing the corporate ladder, be sure to help others up from wherever they are," she said. "What we want is for you to make us proud, and to make the country proud."
The full magnitude of the meaning behind these bursaries, she explained, is that every person who is employed pays a portion of their salary to a levy-grant scheme, of which the students are direct beneficiaries. "This means that there are millions of people, who all work hard for their salaries, who are investing in you. Keep that in mind at all times so that you do not let yourself fail," she said.
Skills development has been identified as a key requirement for economic growth in South Africa, as a result, the Skills Development Act provides a framework for the development of skills in the workplace. Amongst other things, the Act makes provision for skills development by means of a levy-grant scheme to the 21 sector-specific SETAs to administer the scheme's funds, and manage the skills development process.
"At the end of the day, our students need to be performing," she urged them. "We are the highest-rated SETA for a reason."
Please help us to raise funds so that we can give all our students a chance to access online teaching and learning. Covid-19 has disrupted our students' education. Don't let the digital divide put their future at risk. Visit www.ru.ac.za/rucoronavirusgateway to donate