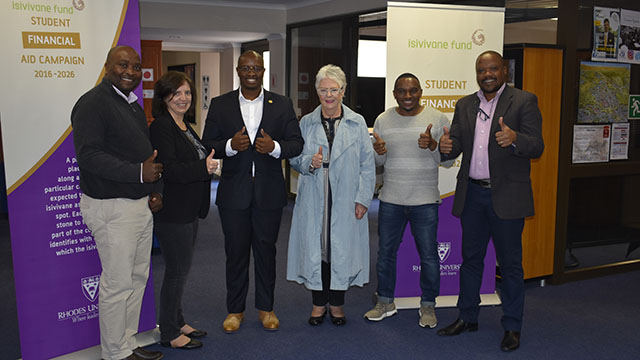 A group of 16 young alumni have established a scholarship programme, called the Ntombesizwe Scholarship, which was launched in Grahamstown earlier this year by Zukisa Pityana, one of the founding members.
As its name "Girl of the Nation" implies, the programme aims to provide full funding to one Grahamstown female student from the 'missing middle', within the fields of Commerce, Science, Law and Pharmacy, for the duration of her undergraduate degree at Rhodes University.
Inspired by their own experience as non-local Grahamstown students, the group of 16 behind Ntombesizwe identified four areas necessitating change, namely:
Grahamstown's young people don't benefit enough from Rhodes University
Young black females from disadvantaged backgrounds are under-represented in the fields identified by the group
There is tremendous financial struggle among underprivileged young people in the 'missing middle' to further their studies and in bridging the gap between university and the workplace
Too many people want to, or expect to, benefit without being willing to contribute
"Based on these four areas, it is clear that we do not do enough, and besides, we can always do more," Pityana urged. "Hence the inspiration behind our Ntombesizwe initiative."
The first Ntombesizwe recipient will be selected later this year for the 2019 academic year, where she will be carried through financially, including her accommodation in residence, to provide her with the full benefit and holistic support of the university residence system.
The university is currently running the biggest fundraising campaign in its 114-year history, called Isivivane, and this scholarship is in line with Isivivane's objectives to increase funding for undergraduate students.
"To give an underprivileged student such a gift – where money isn't a worry – is priceless," said Deputy Vice-Chancellor, Dr Chrissie Boughey. "It is too often the case where a bright young student falls by the wayside because funding takes up too much of their time and emotional and mental capacity. So much is lost when anxiety is related to financial burden."
The student will also receive active mentorship from the various sponsors, all who are specialised in their selected fields, throughout her university education.
"Our group of professionals are in the flagship lucrative disciplines, and our student will have the advantage of this network," explained Pityana. "Ours is not a quantitative sponsorship, but a qualitative one."
The flagship disciplines, according to Pityana, include: Bachelor of Commerce, Bachelor of Economics, Bachelor of Accounting Services, Bachelor of Pharmacy, Bachelor of Sciences, and Bachelor of Laws.
"The fascinating thing is that this kind of initiative is usually done much later in life. The fact that these are young alumni, who have been in the workplace for only a few years, is admirable and inspiring," expressed Luyanda Bheyile from Development & Fundraising at Rhodes.
Pityana said their hope is to pave the way and motivate other young alumni to do the same. "It is never the right time to start something like this, so you might as well begin making a difference early on," said Pityana. "Remember, there is no progress without sacrifice. Transformation is not something we can afford to get lethargic about."
According to Pityana, when we start out in the workplace, it is easy to get lost in forging our own lives. "Part of the Ntombesizwe dream is that we spread awareness about the possibility of building someone else's life, even when young professionals are so busy building their own."
However, Pityana warned, when setting out on an initiative like this, it is very important that there is follow-through. "Contributing to someone else's life in this way is a scary concept for a reason – if you give another human being hope, you cannot simply take it away."
This forms a large part of the reason why the group of Ntombesizwe contributors all know and trust each other personally.
"It is incredible to see when young people remember their educational grounding as Ntombesizwe's founders have done," Dr Rosaan Krüger, Dean of Law, said of the initiative. "It brings about so many emotions. I want to personally thank every graduate that looks back once they have moved on to the workplace, and decides to pay it forward. What people don't immediately realise is that an initiative like this makes not only a precious difference to an individual's life, but to a family's life."
In closing, Pityana humbled everyone with the following key message, "There is no excuse for anyone not to be doing community engagement in South Africa. We are a nation in need and you cannot complain about the negative aspects of this country, unless you are involved in upliftment."