The CoE was formally launched by Dr Ernest Aryeetey, ARUA Secretary General, at an event hosted by Rhodes University Vice Chancellor, Dr Sizwe Mabizela on 27th May 2019. The launch was part of an Inception workshop 26-30 May 2019, where eight of the CoE nodes were represented and a strong, vibrant network emerged from the process (UKZN joined in 2020). We collectively agreed on the CoE name, research focus and direction, principles of collaboration, and began the process of building a directory of CoE researchers and their expertise.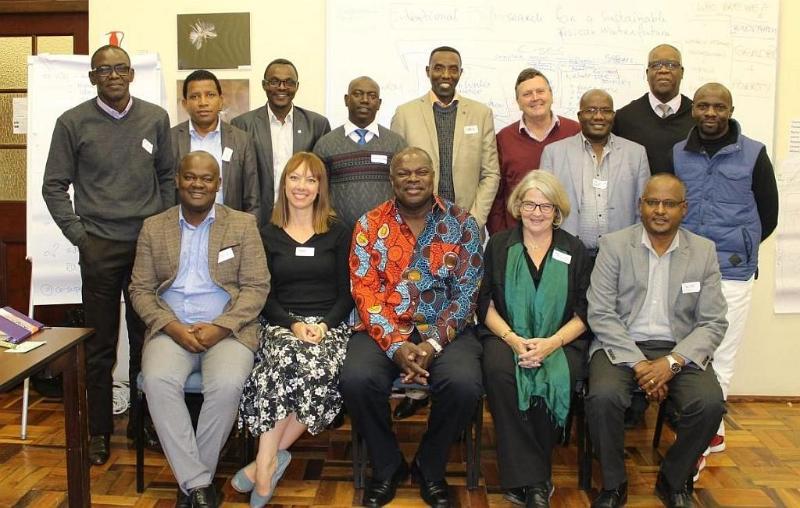 Water Centre of Excellence delegates at the Inception workshop, with ARUA Secretary General Professor Ernest Aryeetey. (Top from left: Professor Serigne Faye (U Cheikh Anta Diop), Professor Joel Norbert (U Dar es Salaam), Dr David Mfitumukiza (Makerere U), Dr Nsengimana Venuste (U Rwanda); Dr Christian Sekomo (U Rwanda); Dr Kevin Winter (UCT), Dr Deogratias Mulungu (U Dar es Salaam); Professor Alioune Kane (U Senegal); Dr Isa Kabenge (Makerere U). Front from left Professor Noble Banadda (Makerere U), Dr Jane Tanner (Rhodes U) Professor Ernest Aryeetey, Professor Tally Palmer (Rhodes U), Dr Tena Alamirew (U Addis Ababa). Delegates from the University of Lagos (Prof Ezechiel Longe and Dr James Akanmu) joined later.

CoE partners workshopping their vision of the CoE.
From Left: Professor Ernest Aryeetey (Secretary-General of ARUA), Dr Christian Sekomo (U Rwanda, Rwanda), Professor Alioune Kane (U Cheikh Anta Diop, Senegal), Dr Kevin Winter (U Cape Town), Dr Tena Alamirew (U Addis Ababa, Ethiopia), Prof Ezechiel Longe (U Lagos, Nigeria), Professor Serigne Faye (U Cheikh Anta Diop, Senegal), Dr Deogratias Mulungu (U Dar es Salaam, Tanzania), Dr Jane Tanner (Rhodes U, South Africa), Professor Joel Norbert (U Dar es Salaam, Tanzania), Dr James Akanmu (U Lagos, Nigeria), Dr Nsengimana Venuste (U Rwanda, Rwanda), Dr David Mfitumukiza (Makerere U, Uganda), Dr Isa Kabenge (Makerere U, Uganda), Professor Noble Banadda (Makerere U, Uganda), Professor Tally Palmer (Rhodes U, South Africa)
Last Modified: Fri, 26 Jun 2020 13:07:38 SAST