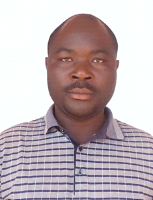 Affiliation/Organization:
Center of Exellence in Biodiversity and Natural Resource Management (CoEB), University of Rwanda, Rwanda.
Education:
BSc. Biology - National University of Rwanda
MSc Biodiversity Conservation - College of Science and Technology, University of Rwanda
Short Biography:
Mr Alphonse Nzarora is an Assistant Lecturer, working at University of Rwanda (UR) since April 2011 where he teaches different courses in Biology department. He studied MSc in Biodiversity and Conservation at University of Rwanda and now he is a PhD student by research in the field of Biology at University of Rwanda; his current project is "Investigation on dynamic biochemical interaction of algae diversity in the Akagera river wetland, Rwanda"
Contact:
Phone: +250788675119
Email: alphanza@gmail.com
Research Interests:
I am interested in algae taxonomy, water and wetlands conservation.
Last Modified: Tue, 27 Oct 2020 16:25:28 SAST