Ogochukwu Onyeme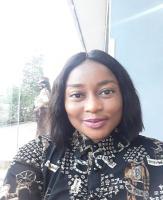 Affiliation/Organization:
University of Lagos, Nigeria
Education:
B.Engr. Civil Engineering - University of Nigeria, Nsukka, Enugu State
MSc Civil Engineering (Water Resources and Environmental Engineering) – In progress - University of Lagos, Akoka, Lagos state
Short Biography:
I am a civil engineer who has her B. Engr in Civil Engineering from University of Nigeria, Nsukka, Nigeria. My undergraduate research work which was on Environmental Degradation due to solid waste disposal.
Upon completion of my B. Engr, I worked as a research/project engineer in an engineering consultancy firm in Lagos, Nigeria and subsequently progressed on my career by taking an MSc in Civil Engineering-Water and Environmental engineering.
I am currently working on my MSc research work in an area of interest, Water Quality and Environmental Degradation.
Contact:
Phone: +234 8037818830
Email: ogochukwu.onyeme@yahoo.com
LinkedIn: Ogochukwu Onyeme
Research Interests:
Water quality
Pollution prevention and monitoring
Water treatment
Water Protection
Last Modified: Mon, 21 Sep 2020 10:38:30 SAST