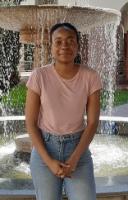 Affiliation/Organization:
Institute for Water research (Rhodes University)
Education:
BSc. Earth and Environmental Science - (Botswana International University of Science and Technology)
BSc. (Hons.) Environmental Water Management - (Rhodes University)
Short Biography:
"In the end we will conserve only what we love; we will love only what we understand; and we will understand only what we are taught." (Baba Dioum, 1968.)
This quote continues to serve as a gyroscope of sorts, nudging and forcing me into spaces of knowledge creation and building. My educational background in earth and environmental sciences sparked my interest in hydrology and water resources related studies. I am motivated by a commitment to contribute sustainable and workable strategies for the water sector. My research training and career is based on interrogating key hydrological processes in varied environmental settings using hydrological modelling and other complementary approaches like remote sensing and GIS.
Contact:
Email: g17r0002@campus.ru.ac.za
Linkedln: https://www.linkedin.com/in/phatsimo-ramatsabana-7a291394
Research Interests:
Environmental Science,
Semi-arid hydrology,
Hydrological modelling.
Last Modified: Thu, 15 Apr 2021 09:29:58 SAST