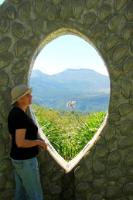 Affiliation/Organization:
Institute for Water Research, Rhodes University, South Africa
Education:
BSc. Environmental Science The University of Hong Kong
PhD Stream Ecology The University of Hong Kong
Short Biography:
My training is as a river ecologist with focus on desktop research using GIS and earth observation data and analyses. My research focus has been on assessing cumulative impacts of small dams on river hydrology and water quality, catchment modelling, land impacts on river water quality, impacts of invasive aliens on rangelands, and ecological infrastructure
Contact:
Phone: +27 (0)46 603 7695
Email: s.mantel@ru.ac.za
ResearchGate: Sukhmani_Mantel
Linkedln: sukhmani-mantel-5568a745
Personal research website: https://www.ru.ac.za/iwr/people/smantel/
Google Scholar: Sukhmani Mantel
Research Interests:
Use of GIS and remote sensing in areas of hydrology, ecological infrastructure and catchment modelling.
Last Modified: Mon, 24 Aug 2020 16:12:51 SAST