C. Palmer (Tally)
| | |
| --- | --- |
| Full Name: | Carolyn Palmer (known as Tally)‌ |
| Current employment: | Centre for Environmental Water Quality, Institute for Water Research, Rhodes University |
| Position: | Professor, and Director |
| Address: | IWR, Rhodes University, P.O. Box 94, Grahamstown, 6140. |
| Tel: | (046) 622 2428 Fax: (046) 622 9427 |
| e-mail: | tally.palmer@ru.ac.za |
‌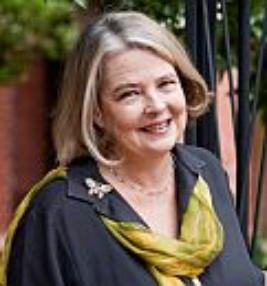 My aspiration as a leader within UCEWQ (IWR, Rhodes University) is: to undertake, supervise and collaborate in research that is used effectively, and as rapidly as possible, to advance equity and sustainability in South Africa. There are different ways of expressing equity and sustainability: social and ecological well-being, or social and ecological justice – all of them indicating the inextricable links between people and the planet. Over the past decade my way of working has been transformed by an increased understanding of general complexity theory and transdisciplinarity (TD). I am now committed to community-engaged action research that is practice based, draws on knowledge across a wide range of academic domains and from practitioners and communities, and is then used to effect behavioural change.
The research is founded on the understanding that humans living on earth comprise complex social ecological systems. It is the characteristics of complex systems that give rise to most of the intractable problems that arise in water resource management. Therefore, key foundation approaches to water research that seeks to shift and loosen problem issues, include complexity thinking (because the systems are by their nature complex) and transdisciplinarity (because it offers methods for concurrent knowledge development and sharing across disciplinary boundaries, and among communities, researchers and practitioners). A wide range of conceptual framings and approaches are consistent with this and are helpful in the context of particular research questions. These include critical realism systems thinking and methodologies, strategic adaptive management, political ecology, resilience, learning and social learning.
A challenge has been to craft excellent, feasible, post graduate projects within this complex framing. Recent external examination comments have been encouraging "this is an exemplary piece of transdisciplinary scholarship". To date two doctoral and five masters graduates have graduated with TD research-based degrees.
Currently, the main research thrust is undertaken under a large "umbrella" WRC –funded project: Integrated Water Resource Management (IWRM) in South Africa: Towards a New Paradigm (TNP). In this context the "new paradigm" is an engaged, practical, integrated and systemic approach:
The project entitled Water Resources Management in South Africa: Towards a New Paradigm (TNP) started in April 2013, and is summarised in Figure 1.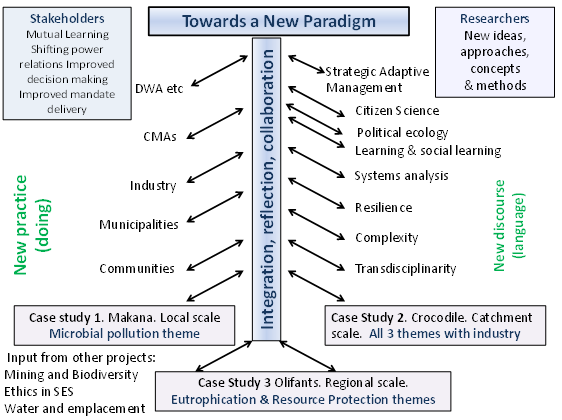 Figure 1: In this 4-year project, the vision is that engaged research undertaken with an understanding that people in catchments comprise complex social ecological systems, using appropriate complexity- and systems-based approaches and methods, could result in a deeper embedding of equitable, sustainable and adaptive Integrated Water Resource Management (IWRM) in South Africa.
The Towards a New Paradigm (TNP) project has three themes through which the practice of new paradigm thinking and practice needs to be demonstrated over the four years. These are water resource protection, eutrophication and microbial pollution in relation to human health. These themes are being explored in terms of TNP theory and practice through three case studies and through a central process on reflective, learning practitioner engagement:
1) Case Study 1 Makana Municipality: At the local government, sub-catchment scale, in the Eastern Cape, we are maintaining, and extending previous work in the Lower Sundays River Valley to Makana – another municipality in the Cacadu District Municipality. The focus is on local government governance linked strongly to community and citizen science through Water for Dignity activities. The research has begun with historical analyses and households surveys as citizen science engages with local government in order to progress water service delivery, equity and resource protection.
2) Case Study 2 Crocodile River in Inkomati catchment: At the Catchment Management Agency (CMA)-catchment scale, an independently funded (dti-NRF-THRIP) project, is building on previous work in the Inkomati Catchment. Case Study 2 brings together industries in the Crocodile River catchment (which is part of the Inkomati system) with local government and water service providers in working towards collaboratively improving water quality in the Crocodile River, contributing to social and ecological health and well-being. The Inkomati-Usuthu Catchment Management Agency (IUCMA) has made this project part of their business plan for water quality as part of operationalising their Catchment Management Strategy (which was designed in collaboration with team member Professor Kevin Rogers from the University of the Witwatersrand). The IUCMA means this case study is embedded in the most developed example of water resources governance in South Africa, and has the opportunity to influence the development of a CMA in the Olifants River Catchment. IWR-UCEWQ post-doctoral researcher, Dr Paul Mensah, led the case study from April to October 2013, after which Dr Victor Munnik took over. The case study is also supported by three Masters' students and a research assistant, all of whom have offices within the IUCMA in Nelspruit. In this way we are already practising the TNP approaches, in that researchers and water resource managers are institutionally embedded in a co-operative activity to improve in-stream water quality. This project is incorporating research into practices that affect all three themes: eutrophication, microbial pollution and resource protection.
3) Case Study 3 Olifants River Catchment: At the broadest biophysical scale, within an international catchment with regional institutional co-operation, the Association of Water and Rural Development (AWARD) are running a large USAID-funded project. The first stage of the project is underway with progress towards building a co-operative, systems-based understanding of the Olifants River basin across South Africa and Mozambique, with participants learning to move towards a more resilient Limpopo Basin System. The project name is RESILIM – towards improving resilience in the Limpopo. IWR-UCEWQ researchers are members of the AWARD team – and RESILIM has an explicit aim to build water resource protection which is feeding in to TNP. The RESILIM experience is being be reported directly into TNP. The Loskop Dam within the catchment will be a focus of the eutrophication theme of the TNP project.
Concurrently with the Case Study work, the TNP project team is working actively with IWRM practitioners, especially within government so that the new paradigm – or better still new practice, emerges rather than being presented in four years' time. Figure 1 shows the three case studies driving a core engagement process, drawing in a wide range of stakeholders and fuelled by a discourse or conversation about new ideas and methods. This core engagement process comprises repeated actions that ensure exposure to the ideas and the practice of the TNP process.
Importantly, the stakeholder engaged process is i) actively recording mutual learning, shifting power relations, improved decision making and improved mandate delivery among participants in new practice; and ii) ensuring that new thinking, experience and practice is contextualised, integrated and embedded through a new discourse (Figure 1).
Since the inception of the TNP, other projects have been included in the TNP conceptual framing. These include studies on mining and biodiversity, and on institutional development in the catchments that comprise the proto-CMA in the Eastern Cape (Tsitsikamma to Mzimvubu Rivers). The goal of the next five years is to secure funding to substantively support the process of the emergence of the CMA.
Projects
WRC
Water resources management in South Africa: Towards a New Paradigm
01/04/2013 to 30/04/2017
THRIP
The development and implementation of an integrated, participative, water quality management process for the Crocodile River Catchment
2013 to 2015
WRC
Aligning and integrating biodiversity and environmental water quality into the mining development life cycle
01/04/2014 to 30/04/2017
DEA/DST
Development of a governance framework and information management framework/system to improve the integration and effectiveness of landscape level planning by the DEA Natural Resource Management Programmes
2015 to 2017
Students
PhD
Athina Copteros
Asiphe Sahula
Emmanuel Vellemu
Masters
MSc Water Resource Science:
Matthew Weaver
Gareth Thomson
Tia Keighley
MEd
Margaret Wolff
M Management
Ian Preston
MSc Environmental Science
Karabo Chadzingwa
Last Modified: Wed, 23 Feb 2022 16:27:55 SAST