Adebayo I. Farounbi
Degree: Ph. D (Water Resource Science)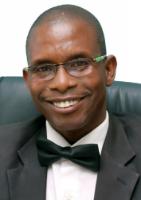 Working title of thesis: Evaluation of Endocrine Disrupting Compounds in Freshwater of Eastern Cape Province of South Africa.
Supervisors: Dr Nosiphiwe P. Ngqwala and Dr Paul K. Mensah
Year of Registration: 2017
Biography:
Adebayo studied Biology at the University of Lagos and Environmental Control and Management at Obafemi Awolowo University, Ile Ife, Nigeria. He is currently a Ph. D candidate at Rhodes University; working with Environmental Health and Biotechnology Research group (EHBR), a division of Pharmaceutical Chemistry. He is currently investigating the extent of pollution of freshwater with various endocrine disrupting compounds (EDCs) in the Eastern Cape Province, using modern spectroscopies. The EDCs covered in his research include: natural hormones, plasticisers, pesticides and heavy metals. At the end of his work, he is hoping to produce credible data for the management of emerging pollutants in South Africa and offer suggestions for better management of wastewater treatment plants and treated wastewater effluents.
Last Modified: Fri, 27 Sep 2019 09:13:09 SAST