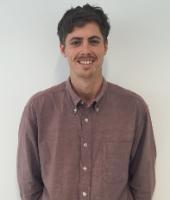 Degree: PhD Water Resource Science

Working title of thesis: Participatory governance in the Tsitsa River Catchment, South Africa: unearthing leverage points in a complex system
Supervisor/s: Prof Tally Palmer and Dr Jai Clifford-Holmes
Year of registration: 2019
Biography:
Having completed his BSc in Civil Engineering in 2015, Ant spent subsequent years learning about agriculture and education. He started an MSc at Rhodes University in 2019 and upgraded to a PhD in 2020, joining the Governance Research Group within the IWR; a group led by Prof Tally Palmer.
His project forms part of the Tsitsa Project (For more information: Tsitsa Overview Brochure). As part of an effort to support the sustainable livelihoods of rural residents through integrated landscape management , the Tsitsa Project has been fostering participatory governance in the Tsitsa River Catchment, in the Eastern Cape of South Africa.
The multi-method approach taken is embedded within an engaged and evolving transdisciplinary methodology. Identifying high leverage points involves mapping the land and water governance system of elements and interactions as well as modeling the patterns of behavior which influence participation over time. With a focus on how interventions can enable participatory governance that meaningfully contributes to sustainable transitions, the research findings are synthesised into a set of leverage points which can help to guide future participatory governance interventions.
Last Modified: Tue, 25 Jan 2022 11:27:28 SAST