Degree: MSc (Water Resource Science)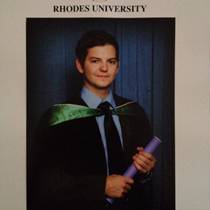 Supervisors: Professor Tally Palmer and Dr Victor Munnik
Year of Registration: 2014
Thesis Title: Evaluating mining and mining-related licensing processes with regards to water quality, wetlands and biodiversity conservation mandates.
Biography and research focus:
My name is Gareth Thomson and I am currently a second year Masters student at the Institute for Water Research, Rhodes University. I hold a BSc (H) in Environmental Water Management from Rhodes University, and I have a strong passion for water and its role in the world as an essential ingredient to life.

My project is focusing on Acid Mine Drainage (AMD) and decision making around mining licensing in the coal mining environment, in the attempt to break new ground in aligning biodiversity and mining goals. I am also using water quality assessment model (WQSAM) to help model risk and seasonal change, as well as predict future scenarios in the catchment I am focusing on, with a particular focus on AMD and other mining related pollutants in the system, which will help decision makers.
Last Modified: Tue, 04 Sep 2018 15:08:58 SAST