Kopano Mokoena
Degree: MSc. Hydrology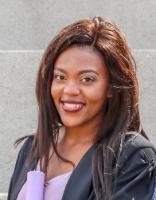 Thesis Title: Exploring the potential of the GRACE Derived Groundwater Drought Index (GGDI) to forecast groundwater drought in South Africa.
Supervisors: Dr. J Tanner & Dr. Sukhmani Mantel
Year of admission: 2019
Biography:
Kopano Mokoena is a Hydrology Masters candidate and holds a BSc. (Hons) in Environmental Water Management from Rhodes University. She is currently a GreenMatter Water Fellow and Grahamstown Nodal Co-ordinator for the Young Water professionals (YWP) South Africa.
Kopano is passionate about environmental learning and education, and has great interest in: groundwater resources, hydrological modelling, surface and groundwater drought monitoring, sustainable water resource management, water governance and GIS. She aspires to play a significant role in future knowledge building, planning and management of water supplies, through discovering alternative water sources and improving current monitoring systems.
Her current study focuses on the application of Thomas et al., (2017) GRACE derived Groundwater Drought Index (GGDI), which is a framework to evaluate drought characterisation using data from GRACE satellites, focusing on the total water storage deficits to characterise drought occurrence in South Africa, particularly for the Crocodile, Sedgefield and Doring catchments. The study will integrate the groundwater component of the Pitman Hydrological Model as part of the associated WRC project which aims to develop an integrated system for adaptation and mitigation to hydrological drought in South Africa.
Last Modified: Fri, 27 Sep 2019 09:13:09 SAST