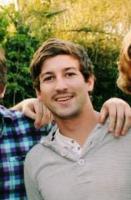 Degree: MSc (Hydrogeology)
Working Title: A Hydrogeological Investigation of Grahamstown, Assessing both the Dynamics and Quality of the Groundwater.
Supervisors: Prof Denis Hughes (primary supervisor) and Dr Jane Tanner (co-supervisor)
Year of registration: 2016
Biography:
Kyle is currently a second-year master's student in the IWR. His university career started at Rhodes in 2011 with a BSc. He majored in geology and environmental science before obtaining a honours degree in geology. During his honours year he developed an interest in groundwater and decided to further his studies through the IWR. His research is focused around the groundwater system in Grahamstown. A report was done in 1986 which assessed the subsurface water in the town however, no detailed work has been done since and therefore one aim of his work is to update these records. The current study will increase understanding of the resource and hopefully form a base for future research.
Groundwater science has long been ignored or overlooked, primarily because of its presence below the Earth's surface. However, in recent years this hidden resource has attracted more attention from scientists and resource managers alike and is now being viewed as an increasingly important component within the hydrological cycle. Uncertainty regarding groundwater systems is inevitable due to the nature of the resource. However, through monitoring and modelling a better understanding of these systems will help bridge this gap. South Africa is considered a semi-arid country and can therefore benefit enormously from increased groundwater research - enhancing water accessibility whist maintaining sustainability.
‌
Last Modified: Tue, 21 Feb 2017 17:10:29 SAST