Rhodes > JMS > Latest News
Jide Akinleminu tells the story of a lone farmer
Date Released:
Mon, 5 November 2018 12:06 +0200
By Ettioné Ferreira
The Goethe Institute made it possible for filmmaker from the Berlin Film School, Jide Akinleminu, to delight Rhodes JMS with his fascinating stories about how he makes documentaries drawing on his own life and family.
Jide Akinleminu was born in Nigeria and the whole family moved to Denmark during the 80s to escape the instability that Nigeria was going through at the time. He and his sisters completed their education in Europe. Their father decided to return to Nigeria but would visit them every year. Jide moved to Germany to pursue a Diploma in Film at the Berlin Film School. For his final year film project he decided to return to Nigeria and make a film about his father and his long-distance relationship with their Danish mother and his life on the Nigerian farm.
The documentary won awards but the film was hard to make, as his father was not interested at the beginning. "I was very nervous and shaky when I gave my father the paper (the film idea)," Akinleminu says.
The film, 'Portrait of a Lone Farmer' was shot during 2010 and 2011. Akinleminu shot some of the documentary on 16mm film, and then had to buy his own camera and shoot the rest as digital video. Akinleminu says, "I released myself from expectations and did the film as a project for myself." While editing he realised that the film had potential and showed his colleagues. The story is a heart-wrenching tale about how his father rarely sees his son and his wife and lives a completely different life to them.
In 2015 he started the filming for a follow-up on, 'When a Farm goes Aflame, the flakes fly home to bear the tale' in which he details his discovery that his father had a second family.


The JMS TV students went on a field trip with Akinleminu during his visit so that he could show them different techniques and angles when doing documentaries. "If you want to go into film I can only recommend that you do not do it alone. It's important to learn communication and collaboration," was his advice to film students.
‌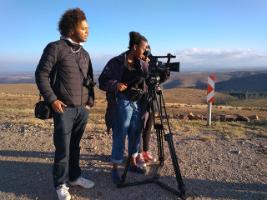 For more about Jide Akinleminu's films you can visit his website: http://www.brotherjide.com/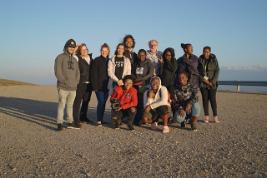 ‌
Source:Rhodes JMS