The He(art) of Being Ghettofabulous
Project title: The He(art) of Being Ghettofabulous
by : Thingo Mthombeni (TV)
---
Synopsis: A series that follows the journey of Anima McBrown, who through each episode seeks to immerse herself and explore how Kwaito has played a pivotal role in asserting black humanity and all things Kasi!
Motivation behind project: This series is an ode to Kwaito, a celebration of township culture and black humanity. It is also an opportunity to complicate the narrative of Kwaito as being solely violent, misogynistic, apolitical and a genre for 'amavuilpop' (dirty hooligans). My own experience consists of growing up in a township area and attending former Model C and private schools from 2001 to 2013. I often had to navigate two different worlds, and I found that my experiences of being in such schools meant having to lend an ear to denigrating jokes, racist narratives and being mocked for not being 'well groomed' or 'well spoken'. I often felt estranged from the learning space, so I turned to Kwaito music to help (re)claim a black identity which made me feel proud, loud, unapologetic, ghetto fabulous, sexy and streetwise.
---
Trailer:
Episode 1:
Episode 2:
Episode 3:
Episode 4:
Last Modified: Fri, 15 Nov 2019 09:45:26 SAST


The celebrity and superfan
Project title: The celebrity and superfan
by : Taylia Meese (Multimedia)
---
Project link :https://www.thecelebrityandsuperfan.co.za
Synopsis:
When searching for literature on superdandom, most academia was centred around superfans of sports, sports teams and fictional universes. As someone who has been obsessed with celebrities from a young age, I wanted to explore the relationship between the celebrity and the superfan. This type of superfan is spoken about, but primarily on popular culture celebrity news platforms. I wanted to compare my findings with these sources as well as preexisting academia on the fan and the superfan. What I found is that the superfans everyday live is affected by the celebrity in three very distinctive ways. These are titled Activities, Aesthetics and Attitudes. Through in depth immersion, I was able to find a strong link between the celebrity and their superfan counterparts.
Last Modified: Fri, 15 Nov 2019 09:49:02 SAST


Masks of Men
Project title: Dissimulate: Masks of Men
Project type : Comic book project
Project link : https://issuu.com/brendon16/docs/dissimulate_for_issuu
by : Brendon Reyneke (Design)
---
Synopsis:
This is a comic book project that investigates whether it is possible to represent marginalised masculinities in a more positive way than is done in current main stream comic books. The project consists of a pilot/prototype chapter of a comic in a series. The main story would span multiple comics to fully explore the experiences of the protagonists, but due to time pressures this prototype is what I produced. There are many people involved in the production of a comic: writer, letterer, penciler, inker, colourist and editor. I needed to perform all of these roles, which is why the comic is a prototype and not finished in colour or shaded. My processes included, interviews with young men, script writing, story boarding, character creation and sketches, and the creation of the comic itself. At the end of the project it was evident to me why multiple people need to be involved in the creation of the comic. Not only for work purposes but to also bring a multitude of life experience to the creation process, which has a deep and lasting effect on what is produced. It was difficult to represent the struggle young men have, both external and internal, with their masculine identity and their developing masculinity in relation to institutionalised hegemonic discourse. But the overall process was very educational.
Last Modified: Fri, 15 Nov 2019 09:49:51 SAST


Stars Belong in Space
Project title: Stars Belong in Space
by : Ellen Heydenrych (Design)
---
Project link :https://issuu.com/ellenfrancesheydenrych/docs/naledi-final
Synopsis:
The project takes the form of an English-medium South African children's book, and chronicles the life of Naledi, who is raised by her grandmother (Nkgono) on the outskirts of Johannesburg. Naledi has a fascination with stars and space, and dreams of becoming an astronaut. Despite having to overcome various obstacles, Naledi realises this dream.
The process of creating the book involved a series of interviews with Binwe Adebayo, Thingo Mthombeni and Mandisa Mpulo. The project is freely available to read on digital publishing platform, Issuu.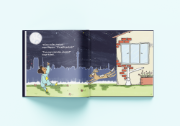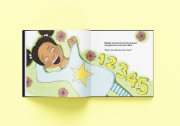 Last Modified: Fri, 15 Nov 2019 09:50:57 SAST