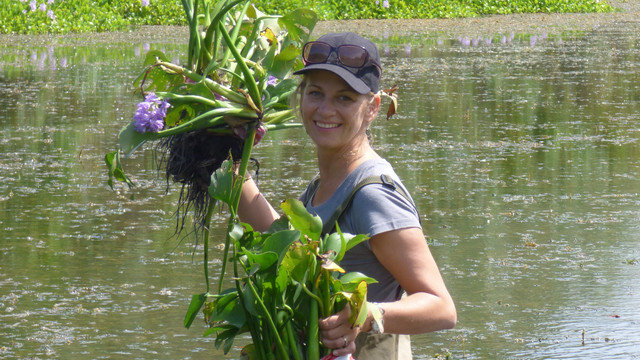 Rhodes University's academic and Associate Professor Julie Coetzee has been elected President of the Entomological Society of Southern Africa (ESSA). The Centre for Biological Control Deputy Director was recently appointed at the ESSA annual general meeting of the society. The President is elected every two years following a nomination and voting by members of the Society. Both the President and Vice President have to have been full members of the Society for at least five consecutive years prior to nomination.
The Entomological Society of Southern Africa was founded on the 14th of October 1937 at a meeting held at the University of Pretoria. It had its genesis in the Pretoria Entomological Club that existed between 1933 and 1936. The Society, an independent not-for-profit professional society, open to professionals and amateurs interested in entomology, is recognized by the South African Council for Natural Scientific Professions, is affiliated with the Joint Council of Scientific Societies, and is represented on various other scientific bodies. The aims of the Society were the publication of a journal, the promotion of contact between entomologists through meetings and congresses, and the establishment of a library.
Professor Coetzee said her role will be to direct the course that the Society should take. "During my tenure, I hope to increase the membership of younger entomologists, and members beyond South Africa's borders. My election as President is recognition of the strong leadership in this discipline that we have had at Rhodes University since 1948. I am one of a number of Rhodes University Entomologists who have been elected into this position, and I am humbled to follow in their footsteps," said Professor Coetzee.
The newly appointed President said given consumer and environmental concerns on the safety of pest control, promoting entomology to the next generation of scientists who can use entomology to reduce the amount of pesticides used in the environment is crucial. "Now more than ever, the benefits that entomological research has to conservation need to publicise and implemented," she concluded.