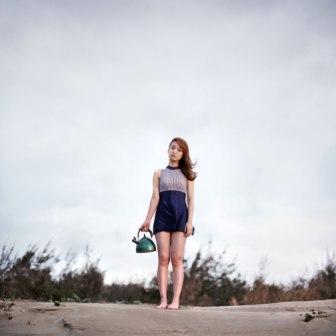 Rhodes > Latest News > 2011
Standing at the shoreline
Date Released:
Thu, 7 April 2011 09:10 +0200
Carla Liesching, photographer, visual artist and Rhodes BFA alumnus of 2007, has created a body of work that explores identity and the nature of the contemporary family.
The Swimmers is "an ongoing series" of 25 large, limited edition photographs depicting almost life-size figures, standing alone in various urban and natural landscapes. The photographs are currently on exhibition at the iArt Gallery in Cape Town.
According to the project statement, Liesching uses her swimmers to "explore the link between space and identity and how we think of home". Says Liesching, "Long before embarking upon this series, I experienced an uncontrollable desire to stand at the shoreline; to look outwards on the dissolving of limits that separate me from those I love. This literal struggle - with the seeming possibility of departures, arrivals or re-unions - turned into the driving force for these images." In this sense, the ocean acts as both barrier and passage, where the borders are constantly erased and redrawn.
She says that even though the photographs may appear to fall under the genre of portraits "they do not attempt to accomplish the traditional aims" i.e. to capture or portray the sitter's personality. She says "the people in the images act as signs, pointing to a possible imaginary portrait of the collective psyche, as impacted by progress".
Liesching has been involved in various local and international exhibitions, performances and installations. Some of The Swimmers were on show at the largest biennale of South African contemporary art, Spier Contemporary, in 2010 and in the same year, she participated in the noteworthy UK show, 'I am solitary I am an army.'
An involved arts educator, Liesching has facilitated workshops for the South African National Arts Festival and taught analogue photography at the Market Photography Workshop in Johannesburg, where she was born. Her involvement in performance arts has greatly influenced her approach to photography and her work is often narrative based, revealing an acute understanding of dramaturgical composition.
Liesching says the most useful and rewarding aspect of her time at Rhodes was "unquestionably the many long hours spent playing and experimenting with the old cameras in the photography department's studio and printing in the darkroom". Here she learned the fundamentals of the photographic process.
"Rhodes University's Fine Art Photography department is one of the few schools in South Africa that still has a strong emphasis on analogue photography and old printing processes. The access to old medium and large format cameras, enlargers and particularly a colour darkroom, has influenced my work greatly – I don't think I would have fallen for photography so if it weren't for that time," she said.
"After a few years working in the field, I have realised how beneficial a foundation in analogue photography is – there are just so many reasons and it cannot be underestimated."
The artist has spent time living and working in Taipei, and will be relocating to New York in May where she aims to complete a Masters degree at the International Center of Photography in association with Bard University.
By Anna-Karien Otto
Source: