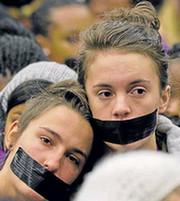 Rhodes > Latest News > 2013
3000 join rape protest nationwide
Date Released:
Mon, 22 April 2013 07:59 +0200
MORE than 3000 people nationwide stood in solidarity with rape survivors on Friday as a part of the annual Silent Protest.
The Silent Protest, now in its seventh year, started at Rhodes University in Grahamstown and went national for the first time this year.
The original Grahamstown protest was by far the largest with 1600 participants.

Throughout the day, participants and rape survivors spoke about their experiences as part of the protest, many of them tweeting to the hash tag #rusilent.
The hash tag trended all day on Twitter on Friday.
During the evening, debriefing ceremony in the Grahamstown Cathedral survivors spoke of their experiences of sexual violence.
Many spoke about their experiences of childhood abuse, with one survivor saying that she had been raped by her father from the age of six months to 10 years old.
"Who looks at a six-month-old baby and says: 'I'd tap that'?" the survivor asked the gathered protesters.
Another rape survivor spoke about her experience being gang-raped on her birthday.
"I don't have a birthday anymore. It's a day that reminds me when I died inside," she said.
The Daily Dispatch does not name rape victims unless they specifically give permission to do so.
The protest was also attended by Eastern Cape-born comedian Siv Ngesi, who flew in to attend the silent protest.
Ngesi participated as a silent protester, and had his mouth taped shut and fasted for the day on Friday.
Speaking at the debriefing ceremony, Ngesi said: "I wrote down what I want to say so that I can make sure I don't swear, because I am f**king angry."
He added that men must take a stand against sexual violence in South Africa.
"I am a brother, an uncle, and a future father. I am supposed to protect women, and I feel that I have failed. We must slay this dragon and put a stop to this war against women."
The silent protesters are expected to fast for the day, and may not speak, said protest organiser and Rhodes student services officer Larissa Klazinga.
For the first time, similar silent protests took place at the University of the Witwatersrand in Johannesburg and the University of KwaZulu- Natal.
Supporters organised a speak out march in Cape Town in solidarity with the Silent Protest.
Caption: UNITED WE STAND: Two protesters participate in the Silent Protest in Grahamstown, Kathleen Deane and Jes Steyn. The protest saw more than 1600 people participate in the Silent Protest and 3300 nationwide - DDR
Picture by: ROBYNNE PEATFIELD
Source: Daily Dispatch
Source: