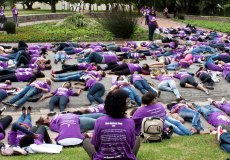 Rhodes > Latest News > 2013
Activists give voice to rape survivors
Date Released:
Fri, 19 April 2013 09:10 +0200
Rhodes' silent protest goes national
A powerful form of protest that started in Grahamstown has gone national. Seven years ago 80 people taped their mouths shut publicly to show solidarity with rape survivors who are silenced by sexual violence.
Thousands of people in several major cities are expected to join 1 500 City of Saints activists for the RUSilent Protest today and plans are in place to expand it to even more centres in years to come.
RUSilent spokesperson Larissa Klazinga, who is also a student services officer, said activists from Johannesburg, Durban and Port Elizabeth would also make the journey to Grahamstown.
Although government crime statistics show 65 000 reported sexual assaults annually, this is only the tip of the iceberg as experts estimate that between 260 000 to 1.5-million assaults are not reported. Fewer than seven out of every 100 cases of sexual violence result in a successful prosecution and fewer than one of every 100 cases results in jail time.
"These numbers are unacceptable," a RUSilent statement said.
"Rape limits human potential; it silences people, makes them feel less than human, keeps them afraid and creates isolation."
According to RUSilent, there are various forms of protest across the country to get the message across.
These include more extreme acts with people gagging their mouths with duct tape for the day, going without food and water and cuffing themselves to lampposts with the message on their T-shirts that "sexual violence causes silence".
Others will wear T-shirts identifying themselves as "rape survivor" while others would wear solidarity T-shirts that say: "STOP violence against women: the power of change is in our hands".
The main reasons for the protest are to highlight the silence around sexual violence and the state's inability or unwillingness to support rape survivors and successfully prosecute rapists.
It symbolises all rape survivors whose voices are silenced by rape and to represent the millions of rape survivors who do not report their violation.
The protesters will be joined this year for the first time by protests at universities in Johannesburg, KwaZulu-Natal and a special 'speak-out' in the Cape Town Company Gardens.
Klazinga said the resource-intensive protest only worked because of the buy-in of Rhodes University, the Dean of the Cathedral in Grahamstown and the amazing volunteers on the day.
"The protest is both powerful and thought-provoking and we hope to grow to take the protest to other centres around the country," she said. The protest takes place today from 6am to 9pm.
Photo by Ettione Ferreira
Source: Daily Dispatch
Source: