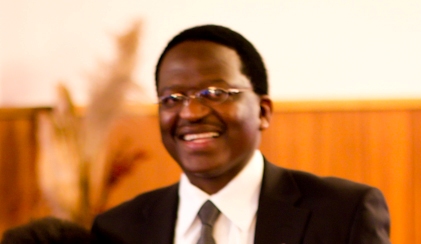 Rhodes > Latest News > 2013
Africa hosts Critical Realism Conference for the first time
Date Released:
Thu, 19 July 2012 12:59 +0200
The 15th Annual International Association for Critical Realism Conference held at Rhodes University, kicked off yesterday (18 July), for the first time on the African continent. The conference coincided with the 94th birthday of the African statesman, former president of South Africa, Nelson Rholihlahla Mandela.
"This marks a historical milestone in the life of the Association for Critical Realism and the recognition of the extensive reach of critical realism across the African continent," says Acting Vice-Chancellor, Dr Sizwe Mabizela.
"It should hardly be surprising a conference on Critical Realism should be held at Rhodes University as we are the leading centre on Critical Realism in South Africa and the African continent," he added.
The conference theme is entitled: Global Change Challenges and Critical Realism Debates.
Eminent speakers and pioneers in Critical Realism such as Professors Roy Bhaskar, Margaret Archer and Alan Norrie, in the following two days will discuss global challenges such as economic decline, persistent inequality and social injustice, climate change, loss of biodiversity and environmental degradation are symptoms of a wider set of issues with roots in established norms, social practices and power structures.
One of the questions that the conference will grapple with is can critical realist tools and concepts help us re-think development, social mobilisation, nature-culture relations and other social practices such as politics, education, work, employment, health and well being?
Addressing the audience yesterday, Dr Mabizela said "the global changes range from the global economic system that is tethering on the brink of collapse to climate change and the associated threats to the very meaning of life as we know it".
"We are living in an uncertain world and in uncertain times; much of which is of our own making. A world that is in transition from the stable, secure and certain order to a new and as yet unclear future," he said.
"The unfettered neo-liberal capitalist system that has maintained a hegemonic dominance over the world for so long with cruel and devastating consequences is in a state of crisis. Some commentators have even gone so far as to suggest its imminent demise, arguing that free-market fundamentalism inspired by Milton Freidman's doctrines on economics is collapsing from its inherent contradictions and structural flaws," he added.
Dr Mabizela is certain that the conference will inspire vigorous and critical discussions and debates on these matters and other important dimensions of challenges of global change.
He said through these debates new insights and ideas can emerge to deepen and advance knowledge and understanding of the social, economic and environmental change challenges and opportunities.
The conference is organised jointly by the Department of Sociology and the Department of Education at Rhodes, and ends on 20 July.
Source: