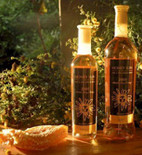 Rhodes > Latest News > 2013
African honey wine popular with Chinese consumers
Date Released:
Thu, 17 October 2013 14:40 +0200
Honey Sun iQhilika Mead, an African-style honey wine, produced by Makana Meadery, a modern meadery based in Grahamstown, in the Eastern Cape is now on display on 30-month permanent trade fair in Ningbo, China, along with five other Eastern Cape products.
Started off as research by a Rhodes University student, Garth Cambray, within a decade the unique traditional beverage has turned into an award-winning product, exported to various countries but mainly to Switzerland and America. It is the only product that is exported from South Africa that is based on a traditional recipe and has a traditional name. The producers use advanced recipes, high-tech filtration techniques and high-end packaging.

The company has also expanded its products and services to include beekeeping products, beekeeping training and research and development. With the support of development financier, the Eastern Cape Development Corporation (ECDC), it is now attracting significant interest in the lucrative and large Chinese consumer market.

"The Chinese were attracted to it mainly because of the honey, which they believe in and love. Honey is a vital ingredient and to match this demand, the company has developed an extensive beekeeping programme. The product's presence in China will provide a much bigger and important market for us," explains Cambray.

"It has a chance in the Chinese market, as the people are still deciding and changing what they drink as the economy grows, unlike countries such as America where people have already decided on their preferences, which are mainly wine, beer or whiskey. We have had very positive feedback from China and we are still positive that it will grow even more with time."

ECDC market access specialist, Zodwa Kepeyi, says Ningbo has the largest seaport in China and the second largest in the world and it forms a major part of China's import and export market. It also presents vast opportunities for the Eastern Cape, as it could serve as a channel for Eastern Cape products to larger markets within China and the rest of the world.

"We have won a couple of awards in previous years. In the International Mead Festival held in Colorado we received a number of silver and gold awards in the spiced mead category. The Chinese market seems to be very pleased with our products and there are a number of people who are interested and we will be sending through more samples to Ningbo," Cambray concludes.
Article Source: http://www.bizcommunity.com/Article/196/162/101962.html
Source:http://www.bizcommunity.com