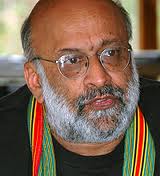 Rhodes > Latest News > 2013
Africa pregnant with hope and despair
Date Released:
Thu, 18 October 2012 14:59 +0200
Africa today faces both an opportunity for major social change and the potential for increasing barbarism in what is perhaps the most exciting period in our history. "This is a period pregnant with hope, but also pregnant with its twin, despair," said Mr Firoze Manji, former-director of Pan African online news publication Pambazuka.
He presented this argument yesterday (Wednesday 17 October) in an address entitled "Pan-African perspectives on contemporary struggles" which formed part of the "Lineages of Freedom" critical conversations series.
Mr Manji argued that popular uprisings against the status quo are taking place across Africa and are a reason for hope in the face of continued repression. This "African Awakening", as he terms it, has been caused by more than just frustration with dictatorial regimes.
Taking his audience through the history of African states since the end of colonialism, he demonstrated how policies of structural adjustment implemented in the 1980s reversed gains in social welfare made immediately following liberation in many African states.
According to Mr Manji, structural adjustment required that African states open their borders for the free-flow of capital, redirect funds away from social expenditure, and allow for privatisation of the commons. In addition to reversing the gains made post-independence, he believes that these policies resulted in two significant dispossessions.
The first is a political dispossession. "Our governments are now more accountable to international corporations than they are to the citizens that elect them," he said.
"Our governments are beholden to capital and develop their social policies from within that framework," he added.
In her response to Mr Manji's argument, discussant for the critical conversations, Ms Nomalanga Mkhize, said that she recognised this political dispossession in the sense of disempowerment felt by many South Africans.
According to Mr Manji, the second dispossession resulting from structural adjustment is one of memory. He argued that generations of young people across Africa are disconnected from the rich history of thinking, philosophy, and experience that has developed on the continent.
"Without that history, we have no future," he stressed. Himself Kenyan-born, he argued that this loss of history is particularly evident in the failure by South Africans to recognise their country as part of Africa. "South Africa is really a critical cornerstone which has played its role in our understanding of history in the rest of the continent," he said.
He further argued that, while citizens vote between increasingly similar options only once every four years, capital votes every second in deciding what is produced and to whom it is available. "In a world where the state must bow to global finance and cannot do what it is elected to do, we need to imagine how we can democratise our societies on the ground," he added.
He is encouraged by the upsurge of social movements across the continent that are challenging the authority of the ruling class. "In this time of wars and revolutions, we must take sides in this challenge or be left with no answer when our grandchildren one day enquire "What did you do?", he said.
The critical conversations series discussions are hosted by the Rhodes University Faculty of Humanities in conjunction with the South African Humanities Deans' Association (SAHUDA). The series aims to unpack multiple histories of liberation and repression in order to critically reflect on both the past and present.
By Kyla Hazell
Picture source: African writing website
Source: