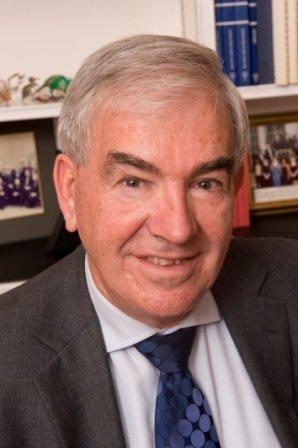 Rhodes > Latest News > 2013
A life in struggle
Date Released:
Tue, 14 August 2012 12:59 +0200
Speaking with admiration and frankness about the life and work of Govan Mbeki, renowned historian Prof Colin Bundy launched Govan Mbeki's biography at the Cory Library for Historical Research recently.
"Govan combined the attributes of an activist and an intellectual, linking theory and practice, to yoke his mind and muscle to the tasks he set himself," says Prof Bundy. "I am particularly pleased that the biography was launched in the Eastern Cape as Govan was in every possible sense an Eastern Cape man."
In explaining his approach, Prof Bundy emphasised how he set out to write "a biography, not hagiography," mapping Mbeki's "false starts, stumbles and as well as successful traverses and descents". This is particularly pertinent as he agrees that often South African political biographies are written as "heroic success stories" which has resulted in a tendency to "read history backwards".
Discussing Mbeki's family life, he admits that he had a reputation for being "a hardliner" citing how his differences with Nelson Mandela formed a gulf "widened by differences in temperament and personality".
"This biography attempts to make us think about the contradictions, limits and achievements of a life in struggle. Acknowledging all of these deepened my understanding and strengthened my admiration for this significant activist and intellectual," he says.
Prof Bundy's connection with Mbeki spans back to the late 80s when they met after he wrote about Mbeki's role as political organiser in the Transkei during the 1940s. This resonates with Prof Bundy's trailblazing work: The rise and fall of the South African peasantry, (1979) which placed him at the forefront of scholarship on rural resistance and reform.
Govan was known as "Oom Gov" by those close to him. The biography outlines the ideas behind his work of over 50 years as an African nationalist and Marxist, with "a steady stream of essays, books, as well as myriad pamphlets" which he believed had wide readership and an impact on family life.
In particular, the essays and notes written while he was detained at Robben Island included detailed advice on how to organise underground movements and meetings and longer essays "which should be read as an integral part of the history of the South African left," says Prof Bundy.
"His life-long and heterodox belief that the ANC should organise the rural people cut little ice in an overwhelmingly urban leadership, which remains a contentious issue to this day," he added.
Govan Mbeki's biography forms part of a pocket series published by Jacana which includes titles about Umkhonto weSizwe and the ANC Youth League as well as Shaka by Prof Dan Wylie from Rhodes University.
The newly appointed head of the Cory Library, Dr Cornelius Thomas, introduced Prof Bundy as a pioneer in fomenting "a break from the liberal/conservative school of thought, in essence writing history from the bottom up". "Bundy has enriched South African historiography through his analysis of class systems, by acknowledging the role of women in the class struggle," he added.
Prof Bundy attended Graeme College as a youth and served as director and principal of the School of Oriental and Studies from 2001-2006. He is retired as the first principal of Green Templeton College, Oxford which, he says after spending many years as an administrator, he now has "the room to think and write again".
Story by Anna-Karien Otto
Photo by Rob Judges
Source: