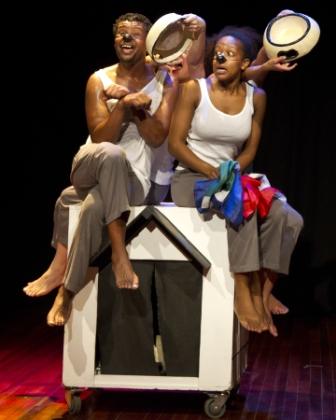 Rhodes > Latest News > 2013
All hearts beat Ubom!
Date Released:
Fri, 29 June 2012 09:59 +0200
With award-winning director Mr Rob Murray at the helm, Ubom! Eastern Cape Theatre Company is exploding onto the Festival scene this year. Three productions Through Blue, Eco-Wolf and the Three Little Pigs and The Dogs Must be Crazy are all sure to get Festinos' hearts beating Ubom!
Teaming up with Drama HOD and Festival stalwart, Prof Andrew Buckland for Through Blue, Mr Murray s excited to re-create a piece close to his heart, as he directed it for his Masters at Rhodes in 2000.
This grittier, less whimsical version includes a scaled down cast and songs performed live and a capella. Collaborating with Rhodes Fine Art student Francois Knoetze as designer, Thleze Kunju as musical director (who is studying towards his Masters in Music at Rhodes) and Capetonian sound designer James Webb- Through Blue is "a dystopian universe set in heart in Johannesburg".
Based on Master Reilly, a short story by Truman Capote, it tells the story of a woman who answers an advertisement in a newspaper to sell her dreams for money. Prof Buckland portrays the role of the tramp, "who describes himself as a man who used to be a clown," he says.
"The tramp is the fool who befriends the heroine who has come to Jo'burg to seek her fortune. A deliciously complex mix of the simple clown and the drunken failure who has sold out and given up on society and lives on the streets, gives any actor a great box of performance toys to play with," Added Prof Buckland.
He modestly says that it has been challenging working the non-verbal performance style of Jacques Lecoq, which Rob draws from a great deal. Taking tenets of the end of nationalism and apartheid, the play "smashes them together in a non-verbal dialogue with cabaret, clowning, visual theatre and physical comedy," says Mr Murray . "Asking the question: 'What does it mean to surrender your dreams to the state?' it leaves the audience with an experience that allows them to look at their own lives, to ask questions."
Eco-wolf and the Three Little Pigs is "a lekker twist on the fairy tale" says Mr Murray, "where the wolf is the good guy and the pigs are the fat-cat capitalist bureaucrats". The show will be performed at Assitej, an exciting new Festival venue at Oatlands School, specially geared towards intelligent, interactive, family entertainment.
Told in rhyme, song and dance, audiences can expect great fun and participation (you will be invited to huff and puff and blow the factories down!) with a strong environmental message, plus the actual flyer is an activity book.
Originally conceptualised and performed by Mike van Graan, The Dogs Must be Crazy formed part of South African protest theatre of the early 90s. A series of silent satirical skits, it describes the regime change, but from a dog's point of view.
Retaining the silent movie quality of the original production, the performers wear black clown noses (reminiscent of Athol Fugard's eponymous Woza Albert!) to appear more dog-like. Satirical and sharp, it "comments on the highs and lows of that time, embarking upon a whistle-stop tour to democracy," says Mr Murray, using life-size puppets to portray the different socio-political archetypes.
What happens when the hangover lifts? is a question most South Africans are still asking. "With our rugged survival mode and our ability to experience so much joy amid the suffering – you understand why people fight for freedom. The Dogs offers up an idea of the hope of communication," he concludes.
By Anna Karien Otto
Picture Supplied by Ubom!
Source: