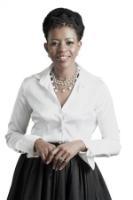 Rhodes > Latest News > 2013
Alumna with entrepreneurial flair
Date Released:
Tue, 28 August 2012 13:00 +0200
At the young age of 11 she knew that if she worked hard enough in school she would be successful enough to no longer have to spend her weekends selling ice cream, boiled eggs and raw meat in the dusty streets of Orlando, Soweto, to help out the family business. This did much to hone her entrepreneurial flair, and today Johanna Mukoki is the managing director and joint founder of internationally recognised travel agency, Travel with Flair.
"It trained me that life is not a picnic and I need to work hard," says Mukoki. From a young age, this lesson was inculcated in Mukoki and her sister, former Miss South Africa and business woman, Basetsana Kumalo, who's also a director of Travel with Flair.
Mukoki pushed herself hard in everything she did. Armed with a BComm degree from Rhodes University and doing her articles at KPMG, then Aiken & Peat, this bright young accountant was head-hunted by companies willing to double, even triple, offers already on the table. "I thought that if people wanted me to be in their companies this much, why not start my own company?" says Mukoki.
But getting her hands on seed capital to start the business proved to be an obstacle. The banks were not interested in funding a woman, which was the norm 16 years ago. But that did not deter this glamorous entrepreneur's dream of starting her own travel agency. "I never say there are challenges, but there are mountains to climb," she says.
And this mountain she managed to climb and conquer. In 1996 she met her business partners Robert Wilke and Tibor Zsadanyi, the company's CEO and COO, respectively. One of her business partner's father loaned their business the R1.5m seed capital they needed to get the business off the ground.
Travel with Flair mushroomed from one branch in Pretoria to branches in Johannesburg, Cape Town, KwaZulu-Natal and 19 in-house branches, with a total staff complement of over 550 employees, most of whom are female. To date, this leisure and corporate travel management agency, which offers flexible packages, keeps yielding a substantially high turnover.
No doubt Mukoki's spirit of excellence has been a major contributing factor. Her excellence has led to her being a much celebrated female entrepreneur with multiple prestigious accolades such as receiving Topco Media's certificate of excellence for the Top SA Female Executive and another award for the Top Gender Empowered Company in 2009. She is also the first African and youngest board member of the Global Tourism Board (ACTE), a corporate travel executives' association for Africa and the Middle East.
Running such a well-oiled machine of a company requires Mukoki to be "hands-on", which helps her know that everything is being done by the book and according to the vision of the company. And like its MD, the company is also an over-achiever, winning awards for Africa's Leading Business Travel Agency, Africa's Leading Travel Management Company and South Africa's Leading Travel Management Company two years in a row, in 2009 and 2010.
"The travel business is dynamic. You need to ensure you keep your first foot forward and keep ahead of technologies," says Mukoki. She adds that the company was the first travel agency in the country to have SMS confirmation, e-confirmation and boarding passes emailed to passengers who had made travel bookings through them.
The company also established the Gauteng Travel Academy to train travel booking consultants in the travel and tourism industry.
Travel with Flair thrives on forming successful partnerships with leaders in the hospitality industry internationally from airlines, hotels, car-hire services in order to meet the needs of each individual customer.
"Partnering with hotels and other players in the hospitality industry is not easy; every relationship hinges on the kind of business and payment terms," says Mukoki. "We make sure that we pay our partners timeously. News travels fast in this industry, people will not recommend us if we don't deliver on this."
For years, it used to be men who won prestigious awards in the business world, but for the past three decades, women have also been getting recognition.
So what does being a finalist for 2012 Businesswoman of the Year award mean for her? Mukoki, who has always aspired to winning such a significant award, says: "This is such a prestigious award because BWA (Business Women Association of South Africa) gives business women in South Africa the opportunity to be acknowledged by their peers. And there's stiff competition, so it's a great honour to be a finalist."
Caption: Johanna Mukoki, MD and founder, Travel with Flair
Source: Finweek
Source: