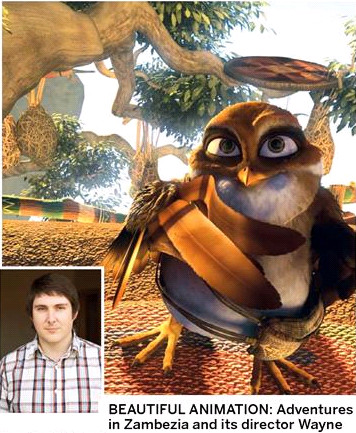 Rhodes > Latest News > 2013
Alumni animation film voted best feature film
Date Released:
Mon, 6 August 2012 10:59 +0200
ANIMATED film, The Adventures in Zambezia proved that the best is saved for last when the makers took away the Best South African Feature film award at the 33rd Durban International Fihn festival over the weekend. Zambezia was the closing act at the festival among the sixteen South African feature films. First time feature film director Wayne Thornley said winning the award was a wonderful surprise.
"We went to the festival to have a good time and enjoy the honour of having our fihn as a closing remark," said Thornley. The 35-year-old graduate of film directing, journalism and drama thought that the animated film didn't stand a chance among the sixteen feature films screened. Asked why he decided on animation, the Rhodes University graduate said that it is a passion he developed after working on animated projects for more than two years. "I saw animation as the best opportunity for me," said Thornley.
A production of Triggerfish animation studios, the film, which had a budget of less than $20m will be released on December 26 at Nu Metro cinemas nationwide. "The film is about an intrepid young falcon, Kai, who after going out of his way to investigate a rumoured bird city called Zambezia learns the value of team work" said Thornley. The judges described Zambezia as a strongly written and directed film with beautiful animation infused with the spirit of the continent and one that tells an African story from an African perspective with a clear global appeal.
It is a distinctively African 8D-animated film with an uplifting message of ubuntu. It has an all-star voicing cast that includes actors Jeremy Suarez, Samuel L Jaackson and Abigail Breslin. Having proved that hard work pays off, Thornley has not rested. "I am already working on a script for another feature film, which is being funded by the National Film and Video Foundation," he said. Speaking to The New Age, Thornley joked that he would buy everyone a beer with the prize money of R30 000 that came with the award. fanisam@thenewage.co.za BEAUTIFUL ANIMATION: Adventures in Zambezia and its director Wayne in Thornley (inset).
Story Courtesy of NEW AGE, THE (First Edition) 02 Aug 2012, Page: 9
Source: