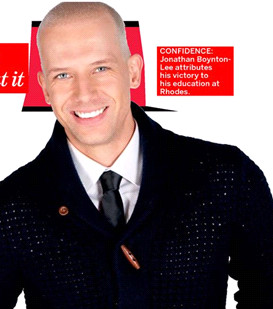 Rhodes > Latest News > 2013
Alumnus gets Top Billing
Date Released:
Thu, 23 August 2012 11:59 +0200
My Top Billing Dream finally has its winner - and he's pretty excited about it fight now Jonathan Boynton-Lee is feeling like a million-dollar baby. The newest winner of My Top Billing Dream reality TV competition described his victory to The New Age as being just as exciting as winning an Academy award.
"Winning the Top Billing presenting job feels like winning an Oscar to me. It's the highest achievement you can get as a presenter in SA," he said. In a nail-biting finale, aired recently on SABCTs Top Billing, the Johannesburg-based filmmaker cum presenter was named the winner of My Top Billing Dream, aired over the past three months, beating hundreds of hopefuls. Still unable to contain his excitement a week after the announcement, he said: "It's such an honour to be part of the Top Billing team.
It is not often that dreams come true, but this is really a good example of living one's dream. It still doesn't feel real." "Above my desk at home, I have my original audition number stuck on the wall and a replica Oscar standing on my desk. These have always been my two biggest dreams in life - to be a Top Billing presenter and winning an Oscar for best foreign language film for South Africa. One!
It just got to show that you should follow your dreams no matter what" Nonetheless, Jonathan attributes his victory partly to the fact that he studied drama and TV journalism at Rhodes University, saying that it has helped boost his confidence in front of the camera. But his good humour and the ability to make his guests feel at ease must surely be among the things that impressed the judges. A good example of this was when he interviewed Isidingo's Marisa Drummond at Gold Reef City, what with the teeny-weeny costume he wore, much to the delight of female audiences.
"I think the viewers were impressed mainly by the fact that I didn't try to be someone else. I was simply being me." An award winning filmmaker, Jonathan was recently named one of the 30 most influential young South Africans in the art and culture category by the Mail & Guardian newspaper. This came after he was selected by two-time Academy award winner Kevin Harris as one of the six filmmakers across Africa to be mentored under the auspices of the Rainbow Documentary Collective, resulting in the highly acclaimed documentary, Life Is Art. His film debut Jozi Kings, is creating a huge buzz and has just been picked up in reportedly one of the biggest deals in Nigerian film history.
A dramatic film about a Nigerian man who comes to Johannesburg to make a living out of crime, Jozi Kings was nominated for best action film and best screenplay at the Nollywood Film Critics Awards in America last year, winning the latter. As if that's not enough, Jonathan was recently selected to spearhead a new distribution platform called Kasi Movie Nights, aimed at bringing the magic of movies to the townships using trucks. "My aim is to use TV and film as a medium to create awareness on some of the challenges we face as a country," he said, referring to the reality of people in the townships not being able to afford to go to the movies.
Tankiso Komani - tankisok@thenewage.coza
Story appeared in NEW AGE, THE (First Edition) 23 Aug 2012, Page: 27
Source: