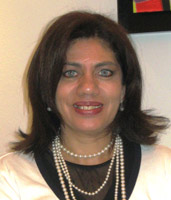 Rhodes > Latest News > 2013
Alumnus to head Management Accountants' body
Date Released:
Thu, 12 July 2012 15:59 +0200
The Chartered Institute of Management Accountants (CIMA), has appointed Zahra Cassim as the new head of South Africa. Cassim joined CIMA on 2 July 2012 with the responsibility of driving the long term country strategy and will report to Samantha Louis, regional director for Africa.
Cassim joins the CIMA from the Institute for Public Finance and Auditing (IPFA) where she was group chief executive of the institute and its subsidiary, Public Finance IQ (PFiQ).

Having joined the Institute for Public Finance and Auditing (IPFA) as a professional development director in 1999, Cassim was initially responsible for developing and implementing the qualifications framework and tiered membership structure of the institute. During her ten years at IPFA, Cassim also served on various skills development committees and boards, advising on matters relating to education, training, career opportunities and vocational trends.

Cassim holds a B.Com degree and a post-graduate Diploma in Education from Rhodes University.
Story Courtesy of BizCom
Source: