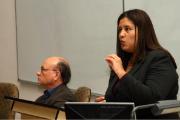 Rhodes > Latest News > 2013
"ANC politics are not as simple and clear cut"
Date Released:
Tue, 24 July 2012 13:00 +0200
"Our president is willing to take big risks for his own political gain. This shows us that our president is someone who will take chances and risk many things that could affect us and lead to a transition to a worse life for all, which is not something any of us would want," said well-known South African journalist Ms Mandy Rossouw during yesterday's (23 July 2012) Rhodes University Teach-In lecture.
Extending the metaphor of Zuma as a chess player, Ms Rossouw likened Mr Zuma to a gambler, in his preference for "easy, quick winnings", opting to engage in strategic political moves which pay off in the short term.
"Mr Zuma likes to play behind the scenes and make moves which don't always make sense to those of us on the outside, but which ultimately advance his position, ensuring that no one at any point has more power than he does."
Nowhere is this clearer than in his strategic behaviour concerning the "second phase" policy document, she said.
During the presentation entitled "When a second transition has nowhere to go – Exploring the gamble president Jacob Zuma took at the ANC's policy conference", which forms part of the Department of Political and International Studies' Tenth Annual Teach-In lecture series, Ms Rossouw gave an outline of President Zuma's latest political strategies particularly as it related to the "second transition" policy document which was tabled before the African National Congress (ANC) Policy Conference held last month (June 2012).
The "second transition" document comprised a radicalised addendum to the original ANC strategy document including calls for land redistribution and nationalisation, was compiled by the ANC national executive committee member, Mr Tony Yengeni. President Zuma adopted the "second transition" document as his own, making it his "rallying cry" in an attempt to gauge party support at the conference.
According to Ms Rossouw, a radical reading of the document includes land grabs and nationalisation of the mines, whereas a more moderate approach would pick up on an emphasis on the role the state should play in the country's economy.
While it proved to be an effective strategy on paper, it lacked clout and was highly problematized by party officials, causing it to be thrown out. At this point, Mr Zuma denied any association with the document, she said, "after proclaiming that it was the second messiah."
The document has since been amended and renamed the "Second Phase of the First Transition". "It didn't work; Mr Zuma wanted to present a new vision the way former President Thabo Mbeki did with the African Renaissance. For all his flaws Mbeki is remembered for that contribution and Zuma wanted something similar," she said, adding that "this was meant to be the blueprint for how things would look for the next 10 years, and Zuma was hoping to be a part of that future."
Interestingly, divisions within the ANC have given rise to a dramatic, reductionist reading of the document, where those who are against it are assumed to be supporters of Deputy President Kgalema Motlanthe, while those who support it are presumed to be aligned with Mr Zuma. This is suggestive of the deep divisions within the ANC, she said.
"ANC politics are not as simple and clear cut as they would like us to believe. Mr Zuma's future is not as certain as we may think. Not only are there opposition groups against him, but they have become very vocal and involved, and are willing to break rules to get their man in."
The Department of Political and International Studies organised Teach-In lecture series to bring a particular issue of interest and concern in the public sphere to the attention of the University and the wider community.
Today's lecture - "Can South Africans forge a social compact for higher growth and development?" - will be delivered by Mr Joel Netshitenzhe, Director Mapungubwe Institute for Strategic Reflection and Member for the National Planning Commission.
Teach-In lectures continue at Barratt Lecture Theatre until Friday from 1pm-2pm.
For more information about Teach-In lectures visit:
http://www.ru.ac.za/politicalinternationalstudies/teach-in/
Photo: from l-r, Head of Political and International Studies, Professor Paul-Henri Bischoff and Ms Mandy Rossouw.
By Sarah-Jane Bradfield
Photo by: Ross Shackleton
Source: