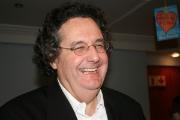 Rhodes > Latest News > 2013
Anton Harber talks press freedom and good journalism
Date Released:
Wed, 15 August 2012 19:08 +0200
Professor Anton Harber, Head of the Wits Journalism Department, co-founding editor of the Mail and Guardian, and the man who "bites the hand that feeds", recently visited Grahamstown to present a short series of guest lectures to the Journalism and Media Studies 4 writing class.
Harber made the trip to Rhodes to share with the fourth years his experience of writing Diepsloot, a non-fiction work about life in the Diepsloot township just north of Johannesburg.
To complete the book, Harber immersed himself in the Diepsloot community for a period of 5 months, patrolling with the neighbourhood guards, discussing politics on the streets and drinking in the local taverns. As the fourth year journalists are soon to embark on their own long form writing pieces, Harber offered advice about entering a community as an outsider and finding the story amidst all one's research.
According to Harber, essential to any journalistic undertaking is the interview process. "There is no such thing as too many," he said, but continued to say that it can be difficult to later carve a narrative and structure out of the interviews conducted.
"Journalists try to learn about some very complex situations and then have to make them simple and accessible for readers. That is a very difficult thing to do."
"Anton Harber's visit was an important and valuable one," said Leigh Hermon, a writer in the fourth year class. "Visitors like him present Rhodes journalism students with some great opportunities to benefit their own skills and better themselves as future media leaders in South Africa."
Associate Professor in the Journalism Department, Anthea Garman, who arranged for Professor Harber to come in, agreed that the input of guest lecturers is invaluable. "Some wonderful conversations develop as students provoke these writers to think about their choices and the writers provoke the students to be adventurous and to experiment," she said.
Philippa Bradbury, another fourth year student, also valued Harber's input. "Having been a part of the journalism world for as long as 30 years, he lectured with the type of confidence that speaks of experience," she said.
Harber's experience in professional journalism is certainly extensive. Professor Harber has worked for many years in his field, writing both during and after apartheid and dedicating much of his work to the battle for press freedom. While co-editor of the Mail and Guardian in 1988, Harber was at the forefront of legal action to challenge the one-month ban imposed on the paper that year.
"There always is and always will be the threat of censorship," he said. "The truth is it's a rocky road that has both peaks and troughs. Sometimes journalism is at its most challenging and interesting in a trough."
When asked what he would say to young journalists today who feel nervous about possible future threats to press freedom in light the recent "Secrecy Bill" controversy, Professor Harber said: "Don't panic. There may be good reason to, but don't."
Harber also encouraged students not to shy away from the profession as huge changes are making Journalism even more exciting.
Harber considers recent threats of prosecution against current Mail and Guardian editor, Nicholas Dawes, and senior investigative reporters, Sam Sole and Stefaans Brümmer, very worrying. "The state is shooting the messenger," he said. "I have no doubt that, even if they skated on the edges of the law, their work was done with a strong public interest. It is the content of the story that should be investigated and prosecuted, not the journalists.
Harber is currently working on a project called Africa Check. Initiated by the AFP Foundation with the vision of spreading across four African countries, the project is being piloted at Wits with Harber at its helm. Intended to both train young journalists and stimulate discussion around truth and accuracy in the press, the project will see reports published on the Africa Check website that verify the facts of issues in the public eye.
Similar projects are being run in the United States and Europe and Harber hopes the platform will aid not only accuracy in reporting, but also increase accountability in the public sphere.
"We're telling anyone in the public discourse to watch out," he said.
Harber, with Irwin Manoim and Antony Altbeker, is about to launch a new site for literary journalism in South Africa. Mampoer.co.za will sell new pieces of long-form journalism by the best of South Africa's writers in electronic format. While at Rhodes meeting with student writers here Harber made the promise to think about opening up the site to new, young writers and to make possible the publication of their work too.
By Kyla Hazell
Source: The Oppidan Press
Photo source: The Oppidan Press
Source: