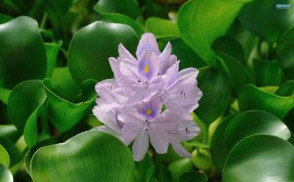 Rhodes > Latest News > 2013
Argentinian hopper insect introduced into Zeekoevlei to help combat water hyacinth
Date Released:
Fri, 25 October 2013 08:59 +0200
The City of Cape Town's Environmental Resource Management Department (ERMD) has released an Argentinian hopper insect (Megamelus scutellaris) into the Zeekoevlei as part of the celebration of National Weedbuster Day which occurred on 16 October 2013.
Without natural enemies in local ecosystems, water hyacinth has spread throughout the city's waterways. It impacts on water quality, indigenous flora and fauna as well as the aesthetic and recreational use of water in the city.
This is the first time the new water hyacinth hopper has been released in South Africa after extensive research by entomologists at Rhodes University in Grahamstown who work on the effectiveness of various biological control agents (insects, mites and pathogens) for water hyacinth.
The release was part of a pioneering joint venture between Rhodes University and various City of Cape Town departments.
The chosen site, Zeekoevlei, is invaded with water hyacinth and is an ideal spot for releasing natural enemies to control the infestation because, once released, they multiply and remain in the area.
The hopper insects have been released in an area where the Zeekoevlei wetland is largely inaccessible to the Kader Asmal River Warden teams as it is the home of the City's hippopotamus family. Working in this area is therefore particularly dangerous.
Water hyacinth is a free floating weed that was introduced into South Africa in 1910 from South America. It remains South Africa's worst aquatic weed, costing the country millions of Rands to control annually.
A suite of biological control agents have already been released into the city waterways to assist in fighting the water hyacinth invasion but it remains a significant problem. This is largely as a result of our sunny climate and the many nutrient-enriched rivers, dams and waterways which provide a constant supply of food for its ever-expanding growth.
Biological control is regarded as the most cost-effective and sustainable way of managing invasive plants in the long-term. The water hyacinth invasion in the city, however, has been so bad in the past that controlling water hyacinth has needed an integrated approach which included mechanical and manual removal, as well as biological control.
Before any biological control agent can be released in South Africa or any country in the world, it first has to go through rigorous screening, which includes quarantine and host specificity tests. Only after an agent is proved to be host specific, does a specialised report goes to the National Department of Agriculture, Forestry and Fisheries – which then issues a permit for its release.
South Africa has a very good track record for biological control, with 2013 being the centenary year of biological control in the country. Approximately 250 biological control agents have been released to date on several aquatic and terrestrial plants.
Millions of Rands have been saved as a result of this type of control measure. South African scientists focusing on biological control are deemed international leaders in their field.
It is accepted by scientists that water hyacinth will never be eradicated from the city's waterways due to its long lasting seed bank. However, by combining all of the control options against water hyacinth, it is hoped that the City can achieve an acceptable level of control. It is hoped that this newest addition to the water hyacinth biological control toolbox will go a considerable way in helping to achieve this goal.
Caption: Water hyacinth. Image from superbwallpapers.com
By Viv
Article Source: http://scenicsouth.co.za
Source:http://scenicsouth.co.za