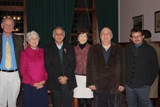 Rhodes > Latest News > 2013
A scholarship in tribute to philosopher David Ryan
Date Released:
Mon, 10 June 2013 08:59 +0200
Friends, family and colleagues of the late Dr David Ryan have donated R1.2 million towards a scholarship for fulltime post graduate students in Philosophy. The scholarship was launched on Monday (3 June 2013) at Rhodes University.
The launch of the scholarship was accompanied by a public lecture presented by visiting Mellon Senior Scholar, Professor Chris Cordner of the University of Melbourne.
Prof Cordner in his lecture explored "Two Modes of Loving", the idea of love created through the acknowledgment of the worth of others.
He pointed out that there are two very different ways of thinking about love that have been informed from his (admittedly) Western viewpoint, of which Platonic and Christian thought have given us the richest formulations.
Firstly, he argued that Plato sees love as needy. "Love is always the Love of something, and…that something is what he lacks," Prof Cordner quotes from Plato's Symposium.
Secondly, in what Max Scheler calls "an act of the spirit," and Prof Cordner designates fairly nominally as Christian, is a conception of love as expansive.
In short: God loves out of the overflowing fullness of God's being, and so too can human beings, created in God's likeness. "This love is experienced by its beneficiary, then, as not alienable by contingencies of what she does, or of the specific qualities she has or lacks, or what she might become," said Prof Cordner.
"If such love is a spontaneous 'going out' towards the other, it is also a very important fact that we can find ourselves affirmed in our deepest being by others' love…," argued Prof Cordner.
"That response to love is a realising, in the one loved, of her own value or worth. But this loving of her is then not an arbitrary creation of anything; it is a creative realising of a value in the one loved that she herself can find affirmed in the way she experiences that love."
Rhodes University Vice-Chancellor, Dr Saleem Badat expressed his regret that he had not met David (Dr Ryan) while he was at Rhodes as they would have found much in common, especially since Ryan was outspoken of how skills in higher education are often regarded as a mere commodity.
"It is clear that the wonderful qualities that David Ryan embodied places a great responsibility on Rhodes University to ensure that we find the meritorious socially disadvantaged students in financial need who are committed to pursuing knowledge and social justice and, to paraphrase [David's mother] Muriel Ryan to pursuing their highest ideals and an authentic and examined life," said Dr Badat.
"We commit ourselves to doing so, and with the hope that those supported by the scholarship and inspired by David Ryan's life will use their knowledge and expertise to help create a more just, humane and friendly world, the kind of world that David desired."
A close friends of Dr Ryan's, Dr Pedro Tabensky, recalled with fondness how they had met at Australian National University (ANU) saying that he owes it to their mutual friend Dr Andrew Gleeson and Ryan himself "that I am here today celebrating your legacy".
In heartfelt speech which reads more like a letter, Prof Tabensky said, "You never really felt at home anywhere but Rhodes was the place that came closest to being your intellectual home."
Dr Gleeson spoke with warmth of his friend and colleague whom he described as indefatigable in his philosophical argument, an accomplished writer, and a spiritual thinker of "burning authenticity".
"David was no respecter of reputation or prestige or received opinion, a trait which frequently irritated more conventional souls. He did not dissemble his views to keep the peace or advance his interests. It was fundamental to David that he would not live by betraying who he was," said Dr Gleeson.
His mother Ms Muriel Ryan presented an elegant and moving tribute to his qualities as an able writer, dedicated teacher and citizen of the world.
With a deep love for Africa, she recalls how he found it devastating leaving South Africa to return to Australia and being unable to renew his special skills visa.
"This scholarship is David's dream come true- that he would contribute to Africa in the long term. Janette [his sister] and I are delighted to be joining with David's friends and Rhodes University to launch this scholarship, bringing David's dearest wishes and highest ideals to life for many years to come," said Ms Ryan.
Dr Ryan was born in Australia and worked as a systems analyst with the Bank of America in London.
He studied Philosophy at Australian National University (ANU) in Canberra, obtaining a Masters of Arts in Pacific and Asian Studies. After attaining his PhD in Philosophy at ANU's School of Social Sciences he took up a post as a doctoral fellow in the department of Philosophy at Rhodes from 2000 to 2002.
By Anna-Karien Otto
Source: