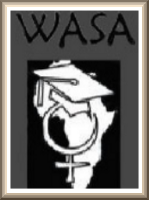 Rhodes > Latest News > 2013
"Barriers and Successes in the Struggle for Equality at Universities"
Date Released:
Wed, 1 August 2012 11:00 +0200
For the first time in its history, Rhodes University Women's Academic Solidarity Association (WASA) will host four senior members of the newly launched University of Limpopo Woman's Academic Solidarity Association (ULWASA) and a gender activist from Walter Sisulu University (WSU), Professor Theresa Chisango, for a round table discussion.
The theme of the round table is: "Barriers and successes in the struggle for equality at universities". The main aim is to discuss the vision, achievements and challenges facing women in academia and to foster collaboration between the universities.
"This round table will give us a platform to have a debate as women that will hopefully enable us to answer questions about how we can transcend the current situation, where representation is still one of the issues that universities grapple with," said WASA co-chair Mathe Maema. "In answering these questions, we hope to generate strategies that will allow us in our respective universities, to forge a way forward, without possibly repeating the past mistakes."
"We intend to have an honest and reflective dialogue about women in academia. Are there barriers that still exist in our path? Have we won any battles in our quest for equality and justice? These are some of the questions that the panelists and audience will interrogate and debate during the round table," said Ms Maema.
The discussions and collaborations are the foundation for bringing about change in the universities. The core mandate of WASA is to highlight challenges that women face and also deal with problems that may hinder the growth and participation of women in academia.
WASA was founded in August 2004 at Rhodes University and its original aim was to create a non-threatening and welcoming space for women (both academic and administrative) in a male dominated institution.
WASA has the necessary support from Rhodes University and funding from the Andrew W. Mellon Foundation to provide support to women in their various efforts to attain excellence. The funding further supports postgraduate women students at Rhodes in areas such as writing breakaways, conference expenses and offers a diversity of seminars that speak to women interests.
"I think what we need to achieve as women in the near future is to come to a point where the question: where are the women in our universities and public discourse is no longer relevant in our society," concluded Ms Maema.
Source: