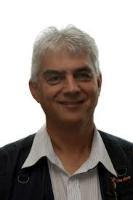 Rhodes > Latest News > 2013
Berger honoured for life's work
Date Released:
Tue, 4 September 2012 11:00 +0200
"South Africa is richer because Guy cared."
This is a statement made in a supplement to the Standard Bank Sikuvile Journalism Awards, formerly the Mondi Shanduka Newspaper Awards, which were presented on Tuesday, 28 August.
The Allan Kirkland Soga Award for lifetime achievement in journalism went to Professor Guy Berger, currently the director for freedom of expression and media development at UNESCO in Paris, France.
Berger was a young lecturer at Rhodes University when the security police arrested him in 1980. He was held in solitary confinement and was later sentenced to seven years in prison for promoting the interests of the banned ANC. On appeal, his sentence was later reduced to two years.
After his release from prison Berger became editor of the alternative newspaper South. From 1994 till 2010 he was the head of the Rhodes school of journalism.
Nic Dawes of Mail & Guardian was honoured as editor of the year.
Die Burger won the Frewin Trophy for the highest typographic excellence in a daily newspaper with a circulation of over 50 000. City Press shared the Joel Mervis Award for weekly newspapers with Mail & Guardian.
Rudi Louw and Jaco Grobbelaar of Grafika24 were also honoured for their work, which appeared in Rapport and in City Press.
Hanlie Retief of Rapport received the award for article writing for "My man, die Sondagverkragter" ("My husband, the Sunday rapist").
Source: Beeld
By Louise Ferreira
Source: